At Hospice of the Red River Valley, we're fortunate to have many dedicated volunteers. We celebrate their contributions to the organization and the ways they enrich our patients' lives.
Click here to find more information about our volunteer program and learn how to apply.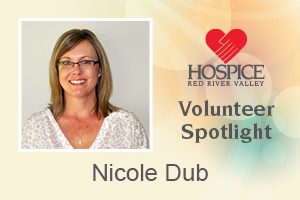 Volunteer: Nicole Dub
Location: Horace, N.D.
Volunteering since: May 2013
Why do you volunteer with Hospice of the Red River Valley?
Volunteering for Hospice has provided me a way to pay it forward. My mother passed away four years ago. During her last few months, Hospice guided us through the end of Mom's journey. Being a volunteer is a privilege.
What's you favorite volunteer memory?
One of my patients wished she would have traveled in her life. She specifically wanted to see Ireland. At her bedside we 'traveled' to Ireland. I played the sounds of the ocean and the mist of the rain while I described tours from websites to 'experience the trip'.
Complete this sentence: If I could change the world, I would. . .
One person can not change the world, but together we can make a difference. I would encourage others to volunteer for Hospice of the Red River Valley. Through my experience I have gained much more than I have given.