At Hospice of the Red River Valley, we're fortunate to have many dedicated volunteers. We celebrate their contributions to the organization and the ways they enrich our patients' lives.
Click here to find more information about our volunteer program and learn how to apply.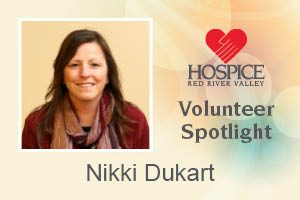 Volunteer Coordinator: Nikki Dukart
Location: Grand Forks, N.D. / Thief River Falls, Minn., and surrounding communities
Since: 2010
Why do you work as a volunteer coordinator for Hospice of the Red River Valley?
I believe in Hospice's mission, and I really enjoy helping patients and families in need. Hospice is a great place to work.
What is your favorite part of your job?
I enjoy working with the volunteers. They give endless hours of time to our patients and families. Our volunteers are truly amazing!
Tell us about one of your favorite experiences as a volunteer coordinator.
Each year we have a volunteer appreciation event that recognizes our volunteers, and I love getting together with everyone. It's their day to be recognized for all of their hard work! It's also a great time to meet volunteers throughout the entire service area.
What are your hobbies?
I love to do crafts and bake when I have time. A lot of my time is spent traveling with my kids for their activities.