At Hospice of the Red River Valley, we're fortunate to have many dedicated volunteers. The Volunteer Spotlight celebrates their contributions to the organization and the ways they enrich our patients' lives.
Click here to find more information about our volunteer program and learn how to apply.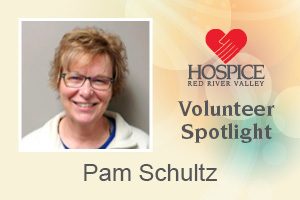 Volunteer: Pam Schultz
Location: Casselton, N.D.
Volunteer role: Patient Care Volunteer
Volunteering since: April 2015
Why do you volunteer with Hospice of the Red River Valley?I'm a former hospice nurse, and now I work from home. I wanted to get back into visiting patients.
What is your favorite volunteer memory?
Once I helped arrange a patient's home so that he could set up a train set that he had.
What are your hobbies?
Knitting, wool felting to make slippers, landscaping and gardening. I like repurposing old things, such as furniture, and I love spending time with my grandchildren.