At Heirlooms Thrift & Gift, We're fortunate to have many dedicated volunteers who give generously of their time and talents to support the store—and Hospice of the Red River Valley's mission. The Volunteer Spotlight celebrates their contributions to the store and organization.
Click here to find more information about our volunteer program and learn how to apply.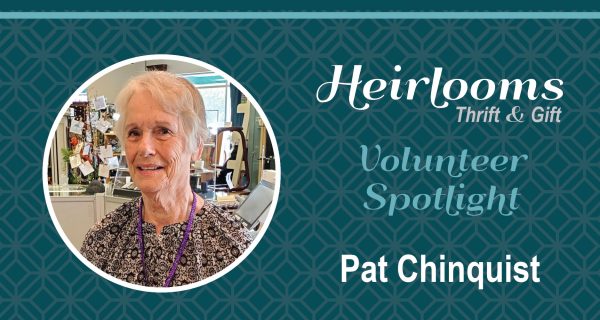 Volunteer: Pat Chinquist
Location: Fargo, N.D.
Volunteer role: Heirlooms Thrift & Gift volunteer
Volunteering since: 2003
Why do you choose to volunteer with Heirlooms?
I first became involved with Heirlooms when I was approached by someone who I knew while I was volunteering for Dakota Hospital. I continue volunteering because I enjoy the staff and have found new friends with fellow volunteers. I never know what the day may bring!
How does it make you feel to know your work at Heirlooms support Hospice of the Red River Valley's mission?
It is humbling to feel one can help in even a small way those who are at the end of their time here on earth.
What is your favorite aspect of Heirlooms?
The contact with customers—so many stories! Plus, interaction with staff and other volunteers.
What accomplishment are you most proud of?
I'm most proud of having been a registered nurse (RN) in England, Canada and the United States.
Describe your perfect day.
To survive it!
What is your favorite food to make or eat?
I love hamburger.
What hobbies to you enjoy?
Scuba diving, gardening, needlework, mystery/murder novels
If you had no fear, what would you do?
Sky diving—I waited too long!