At Hospice of the Red River Valley, we're fortunate to have many dedicated volunteers. We celebrate their contributions to the organization and the ways they enrich our patients' lives.
Click here to find more information about our volunteer program and learn how to apply.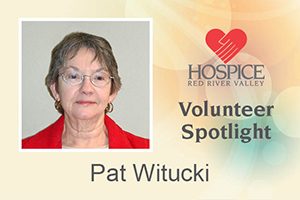 Volunteer: Pat Witucki
Location: Detroit Lakes, MN
Volunteering since: July 2003
Why do you volunteer with Hospice of the Red River Valley?
In 2003 I was attending a health fair, and I saw the Hospice booth. I asked a few questions and really liked the services that the organization provided. I signed up to volunteer and have been here ever since.
What accomplishment are you most proud of?
My husband Paul and I have two sons and two grandchildren that we are very proud of!
What's your favorite volunteer memory?
Working at volunteer booths with many other wonderful volunteers!
What has been your favorite vacation?
A fast trip to New York City and four trips to Norsk Høstfest in Minot, N.D.
What hobbies do you enjoy?
Reading, reading and reading!