At Hospice of the Red River Valley, we are fortunate to have many dedicated volunteers. We celebrate their contributions to the organization and the many ways they enrich our patients' lives.
Click here to find more information about our volunteer program and learn how to apply.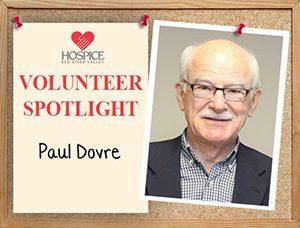 Volunteer: Paul Dovre

Years of Service: 7 1/2 years

Location: Moorhead, Minn.
Why do you choose to volunteer with Hospice of the Red River Valley?
It's about learning, growing and giving back.
What is your favorite volunteer memory?
A crusty retired farmer who could not resist ribald humor.
What is the most exotic place you've visited?
Jamaica, a year ago. We were there for recreation and celebration.