At Heirlooms Thrift & Gift, We're fortunate to have many dedicated volunteers who give generously of their time and talents to support the store—and ultimately, Hospice of the Red River Valley's mission. The Volunteer Spotlight celebrates their contributions to the store and organization.
Click here to find more information about our volunteer program and learn how to apply.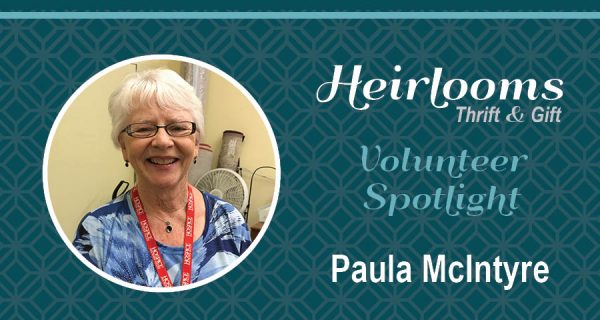 Volunteer: Paula McIntyre
Location: Fargo, N.D.
Volunteer role: Heirlooms Thrift & Gift volunteer
Volunteering since: 2009
Why do you choose to volunteer with Heirlooms?
It is a privilege to help prepare items to sell and know that it also helps Hospice of the Red River Valley.
What is your favorite aspect of Heirlooms?
Heirlooms is so well managed. I work to unpack boxes and prepare items for sale. Everyone is friendly, and as a volunteer, I feel appreciated. Also, knowing we are working for Hospice makes it special.
Describe your perfect day.
Any day that I'm busy. I do enjoy reading, but that is usually the end of the day.
What is your motto or philosophy you live by?
I just try to do my best, be active and kind.
What is your favorite food to make or eat?
Cookie baking is like therapy for me—making a big batch of monster cookies is actually relaxing to me.
If you had no fear what would you do?
Ride horses and swim. I never learned to swim. I love horses, but I'm afraid to be up close to a horse.