At Hospice of the Red River Valley, we are fortunate to have many dedicated volunteers. We celebrate their contributions to the organization and the many ways they enrich our patients' lives.
Click here to find more information about our volunteer program and learn how to apply.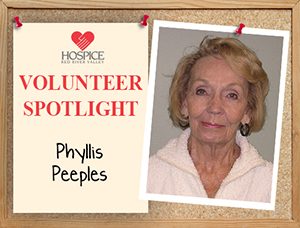 Volunteer: Phyllis Peeples
Years of Service: 3 1/2 years
Location: Fargo, N.D.
Why do you choose to volunteer with Hospice of the Red River Valley?
My husband had cancer when we were living in Florida, and hospice was there to provide support 24/7 for the last three weeks of his life. When we came home from the hospital, a hospice nurse was waiting for us and was able to care for my husband so that I could have a shower. Because hospice was so helpful to me, I wanted to try to help others who might be going through the same situation I went through with my husband. I started off as an office volunteer at the front desk, and before long I was visiting patients in their homes.
What is your favorite volunteer memory?
My favorite memory is with a patient I saw in a nursing facility. I was with her for over a year, and I enjoyed it so much because I had the chance to get to know her family. It was good to see how often the family visited, and I learned interesting things about people and their relationships. I enjoy people, and having the chance to connect with others is important to me.
Do you have a motto or philosophy you live by?
The Lord's Prayer is a good guide for me. It gives me peace, comfort, beauty and joy. I don't take anything too serious. If we take things too seriously, that can get in the way of seeing the beauty in each day. And there is so much beauty around us.
What hobbies do you enjoy?
I play Bridge twice each week and really enjoy that. I am also active in the Red Hat Society. I enjoy gardening, painting, sewing and knitting. I recently began attending a rosemaling class through the Sons of Norway, and I am enjoying the new challenge.