At Hospice of the Red River Valley, we're fortunate to have many dedicated volunteers. We celebrate their contributions to the organization and the ways they enrich our patients' lives.
Click here to find more information about our volunteer program and learn how to apply.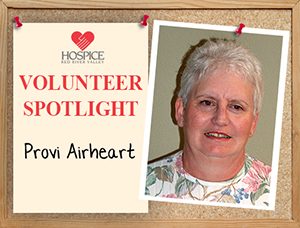 Volunteer: Provi Airheart
Years of Service: 8 years, 8 months
Location: Detroit Lakes, Minn.
Describe your perfect day.
A beautiful summer day with my extended family at the lake. The week they are here is my favorite week of the year.
If you had no fear, what would you do?
I'd learn to swim and enjoy the water. How can I live in Lakes Country and not swim?
What's your favorite food?
It's not the food so much as being in the kitchen with my sisters, daughters and niece and cooking a big meal that the family will sit down and eat on a Sunday night. But any kind of pasta is mighty good!