At Hospice of the Red River Valley, we're fortunate to have many dedicated volunteers. We celebrate their contributions to the organization and the ways they enrich our patients' lives.
Click here to find more information about our volunteer program and learn how to apply.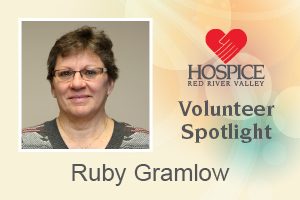 Volunteer: Ruby Gramlow
Location: Fullerton, N.D.
Volunteering since: 2014
Why do you volunteer with Hospice of the Red River Valley?
I loved working for Hospice of the Red River Valley as a nurse and also enjoy sewing, so volunteering to sew Celebration Bears is a perfect fit. I no longer am a nurse with Hospice but believe in its philosophy and want to continue to work with the program. Death and dying are hard, but there are such great rewards for those who work with this population. It is a special time for the families that they share with you.
What accomplishment are you most proud of?
The accomplishment I am most proud of is that my husband Alan and I just celebrated our 35th anniversary. We have two wonderful sons, as well as a fabulous daughter-in-law—getting our second daughter-in-law in September 2016—and two pretty cool grandsons.
What has been your favorite vacation?
All the vacations hold great favor to me as we have never returned to the same place. We take in as much as we can when we are there the first time. If I had to choose, it would be a mission trip I took to Chimbote, Peru, in 2011. Working with the poorest of poor, and they showed us so much happiness and joy. The poverty that we saw was unthinkable, but the people were so warm, loving and giving.
What are your hobbies?
Sewing, of course. Another hobby is card playing. As the saying goes, it's a small world as I play pinochle with a gentleman whose spouse was a former hospice patient. He sometimes calls me in advance to make sure I will still be his partner when our local pinochle starts in our small town. We generally play from January until early April. Occasionally we even win the tourney for the evening. There are always lots of laughs when we get together for the games.
What's your favorite food?
I do not know that I have a favorite food, but I love to try new foods that I have never eaten before.