At Hospice of the Red River Valley, we're fortunate to have many dedicated volunteers. We celebrate their contributions to the organization and the ways they enrich our patients' lives.
Click here to find more information about our volunteer program and learn how to apply.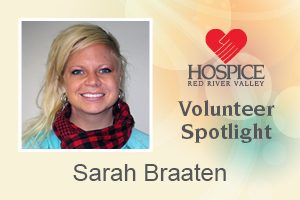 Volunteer: Sarah Braaten
Location: Fargo
Volunteering since: 2014
Why do you choose to volunteer with Hospice of the Red River Valley?
I get asked that question all the time. "Why do you volunteer for Hospice? Isn't it so sad?" Of course it is sad – we see people at the final stages of their lives. But if you think about it, it is also an honor. A Hospice volunteer is sometimes the last person a patient sees or holds hands with as they take their final breath, and to me that is the highest honor anyone can have. And yes, volunteering for Hospice can be sad, but what's more sad is the thought of a person being alone because they have no one to be at their side for companionship for the last months or moments of their life. I volunteer because Hospice is such a positive organization that takes so much of the burden and worry off of families' heart during times of sorrow, and I am so grateful to be a part of it. It has changed my life in more ways than I had ever imagined.
What is your favorite volunteer memory?
My favorite memory is the day I went to visit my patient, and the nursing home resident cat was on my patient's bed. There is a well-known theory that cats have a sense about when someone's time is soon to be up, and they have been known to stay with these people until they die. Sure enough, the employees at this nursing home said this kitty would one day appear in a room and stay until the patient, often weeks later, passed away. The cat would then move to another resident's room, where the same thing would happen. This happened over and over, and it was so common that it was just an everyday thing to the workers. When I saw the kitty on my patient's bed, I knew that her suffering and poor quality of life would soon be over, and she would be going to a much better place. This cat was sort of a symbol of happiness, and this is by far my most favorite memory. My patient went to heaven a few weeks later.
Complete this sentence: If I could change the world, I would…
1) Incorporate nursing homes, preschools and animal shelters – all three in the same buildings! 2) Make animal testing illegal. 3) Make Girl Scout Cookies a food group.