At Hospice of the Red River Valley, we're fortunate to have many dedicated volunteers. We celebrate their contributions to the organization and the ways they enrich our patients' lives.
Click here to find more information about our volunteer program and learn how to apply.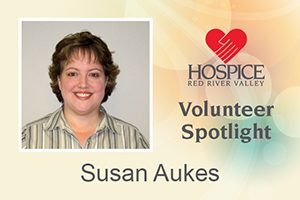 Volunteer: Susan Aukes
Location: Fargo
Volunteering since: 2014
Why do you volunteer with Hospice of the Red River Valley?
I've always known that Hospice was a wonderful program and offered support and service to patients and their families. I've wanted to volunteer but always felt I was too busy to make a commitment to a patient/family. I was delighted to learn that Hospice was looking for volunteers to help in the office. As an office volunteer, I've enjoyed meeting the staff and find it rewarding to know that what I do frees up some of their time to better serve the clients.
What hobbies do you enjoy?
I enjoy cross-stitch, scrapbooking and travel.
Describe your perfect day.
I've been fortunate to have many. My most recent perfect day was last winter at a rented cabin in northern Minnesota. I slept in and awoke to beautiful snowfall on the lake. I spent the day on the sofa in front of a fireplace with my husband watching old movies and eating popcorn. Life doesn't get any better than that!