At Hospice of the Red River Valley, we're fortunate to have many dedicated volunteers. We celebrate their contributions to the organization and the ways they enrich our patients' lives.
Click here to find more information about our volunteer program and learn how to apply.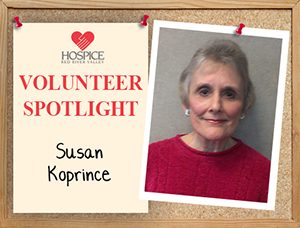 Volunteer: Susan Koprince
Years of Service: 1 year
Location: Grand Forks, N.D.
What is your favorite volunteer memory from your time with Hospice of the Red River Valley?
I made weekly companionship visits to a hospice patient who was passionate about cars— especially classic cars, which he used to paint and restore. Since I knew very little about cars myself, one day I decided to bring a large, illustrated book about classic cars that I borrowed from the public library. Sitting side-by-side, we looked through the entire book together. He turned the pages himself, often smiling and commenting about the various makes and models, which he could identify with amazing accuracy. We took our time and enjoyed the colorful photos.
What hobbies do you enjoy?
My favorite pastime is reading—everything from classic novels to contemporary legal thrillers. I enjoy movies and tend to watch a lot of sports on television, particularly baseball and football. I'm a devoted fan of the Chicago Cubs, who haven't won a World Series since 1908!