At Hospice of the Red River Valley, we're fortunate to have many dedicated volunteers. We celebrate their contributions to the organization and the ways they enrich our patients' lives.
Click here to find more information about our volunteer program and learn how to apply.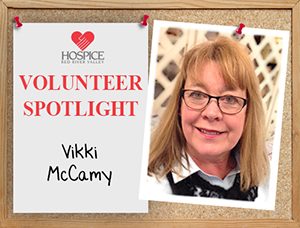 Volunteer: Vikki McCamy
Years of Service: 6 years
Location: Fargo, N.D.
Why do you choose to volunteer with Hospice of the Red River Valley?
It's a great cause, and the mission is important. I've really enjoyed volunteering at Heirlooms. I can be creative in merchandising displays, and it's always a new day. It's almost like Christmas every day! You never know what will be donated — people are very generous!
What's your favorite memory from your time spent volunteering?
A lady came in on a mission: she was redoing her bedroom. She found two beautiful chairs, artwork and a great desk. We worked together to pick out a perfect room, and it was so beautiful when we finished! I loved being able to do that with her!
What hobbies do you enjoy?
Antiques. I collect furniture, clocks, dolls, etc. And gardening: even in the winter I do herbs.
What is your favorite food?
Broccoli.
What accomplishment are you most proud of?
Having a healthy, fulfilled life with my husband and animals! We have a golden retriever named Annie and a lab named Oakley.
What has been your favorite vacation?
Mexico. Beautiful water! I'm a lake person, and I love the white sand, turquoise waters and beautiful flowers!
Describe your perfect day.
Get up, have coffee, sit in my garden at the lake, and look out at the water with my dogs and husband. Take a pontoon ride. The lake is my nirvana! Flowers, birds, antiques. It's my place of peace!
If you had no fear, what would you do?
I'm afraid of heights, so skydiving!