We are where you need us. Our service area stretches across more than 40,000 square miles of rural and urban terrain in both North Dakota and Minnesota. We have offices in Fargo, Grand Forks, Detroit Lakes, Thief River Falls, Bismarck and Valley City.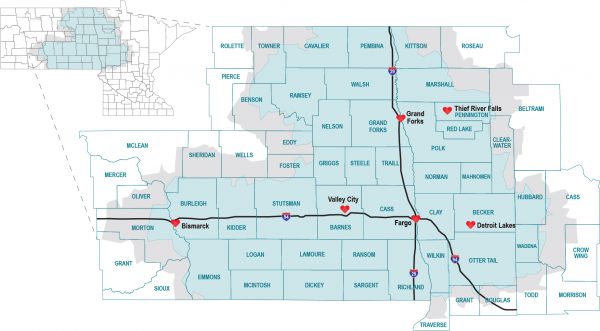 Our care comes to you. If you are located outside of our service area but are in the periphery, gray area, please contact us anyway. Depending on your specific location, we may be able to help you or your loved one while upholding our commitment to exceptional care and prompt response times.
We are privileged to serve patients in many settings, including their own homes, nursing homes, hospitals, assisted living facilities, shelters and many other places people consider "home." Your Hospice team comes to you, providing everything you need to be comfortable. This allows you to focus on valuable time with your loved ones.
If you have questions about our service area or wonder if your location is included, please contact us.