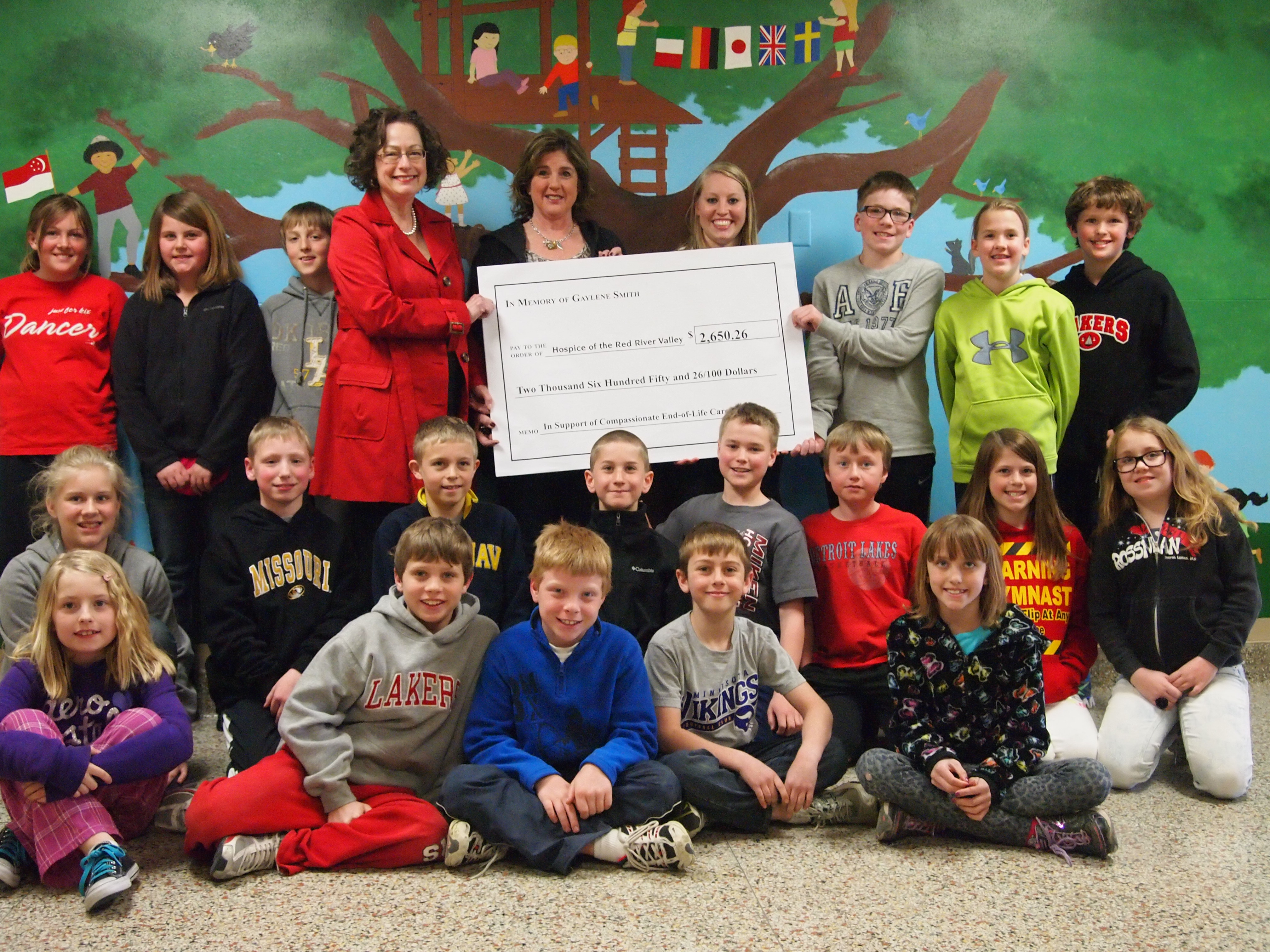 What started as a college research paper blossomed into a full-scale fundraising and awareness effort. On Tuesday, April 10, Kayla Smith and Rossman Elementary School student council members presented the gift of $2,650 to Joy Crouch, development officer with Hospice of the Red River Valley.
Their choice of supporting Hospice is deeply personal. Kayla's mother, Gaylene, suffered from colon cancer and was cared for by Hospice of the Red River Valley.
"Last year, I had to write a research paper about how I would raise awareness about an issue. I chose colon cancer, because my mother suffered from it," Smith shared. "At first, I was just writing the paper for a grade, then, I decided to put the plan into action." Kayla sold ribbons, bracelets and t-shirts at M-State in Moorhead, Minnesota State University Moorhead and North Dakota State University. She didn't stop there.
"One of my cousins attends Rossman Elementary in Detroit Lakes. We thought, why don't we have a dilly bar sale?" Smith said. The Rossman Elementary School student council members took on the dilly bar sale as part of their Caring Project. The Frazee High School and Elementary schools had similar sales. Their hard work resulted in a substantial gift to Hospice.
"I am amazed and so appreciative of the support from Kayla and the students," said Crouch. They've shown a real eagerness to gift back to their communities. Kayla and the students should be very proud of themselves."
The donation will be used to provide compassionate end-of-life care to those in Detroit Lakes and surrounding communities. To learn more about making a deliberate gift to Hospice, and the opportunity to have your investment doubled through a grant from the Otto Bremer Foundation, call (800) 237-4629 and ask to speak with Joy Crouch.