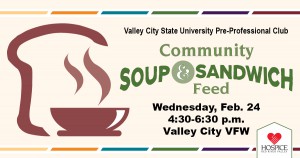 The Valley City State University Pre-Professional Club will host a Community Soup and Sandwich Feed on Wednesday, Feb. 24, 2016, from 4:30-6:30 p.m. at the VFW, located at 138 E. Main St. in Valley City.
The Community Soup and Sandwich Feed is open to the public. Tickets cost $7 per person; children under five eat for free. Proceeds from the event will be used to advance the club, and a portion will be donated to Hospice of the Red River Valley.
Tickets may be purchased in advance by contacting Hilde van Gijssel at (701) 845-7337 or hilde.vangijssel@vcsu.edu. Tickets purchased in advance will be held at a will-call table. Tickets may also be purchased at the event.
About the Pre-Professional Club
The Pre-Professional Club at Valley City State University is for students interested in careers in the medical field, graduate school and law. The club helps students with the application process, provides volunteer opportunities, job shadowing and job observations hours, study sessions and mock admission tests and anything else related to the admission process of professional programs.
About Hospice of the Red River Valley
Hospice of the Red River Valley is an independent, not-for-profit hospice serving all or portions of 29 counties in North Dakota and Minnesota. Hospice care is intensive comfort care that alleviates pain and suffering, enhancing quality of life for terminally ill patients and families by addressing their medical, emotional, spiritual and grief needs. For more information, call toll free 800-237-4629, email questions@hrrv.org or visit www.hrrv.org.