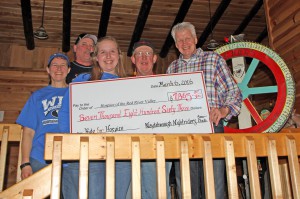 The Naytahwaush Nightriders Sno-Club recently announced that this year's Ride for Hospice, held in February, raised $7,863 for Hospice of the Red River Valley. In 12 years of the ride, the Nightriders have raised $82,615 to help provide hospice care to patients and families in Naytahwaush and surrounding areas.
The Nightriders presented a check to Curt Seter, development officer for Hospice of the Red River Valley, at their annual Snodeo held March 5-6.
"The Naytahwaush Nightriders have put on this wonderful event for well over a decade and we are so appreciative of their continued financial support," said Seter. "Their efforts will help ensure that Hospice of the Red River Valley has the resources needed to deliver compassionate end-of-life care to the people of Naytahwaush and the surrounding communities now and into the future."
For more information about future events or membership in the Naytahwaush Nightriders Sno-Club, please visit www.naytahwaushnightriders.com.