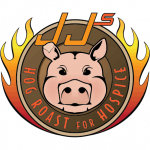 The second annual J.J.'s Hog Roast for Hospice was held Aug. 25-26 and raised $4,530 for Hospice of the Red River Valley. The two-day event, which featured music, a car and bike show, and a traditional hog roast meal, was held in Pelican Rapids, Minn. Over the past two years, this event has raised $5,636 to help provide hospice care to patients and families.
"We're so appreciative of Jeff and Cindy for hosting this event in memory of their son J.J. It brings the community together for delicious food, fun and a great cause," said Curt Seter, development officer with Hospice of the Red River Valley. "We're honored to be a part of this wonderful event. I hope we can continue to work together for years to come."
The event was sponsored by A1 Radiator Service, Dewey's Septic Service, Wanzek, Dakota Paper, Northstar Safety Inc., Roamers 4×4 Club, Doug's Optical, Pro Pallet and Cormorant Inn.