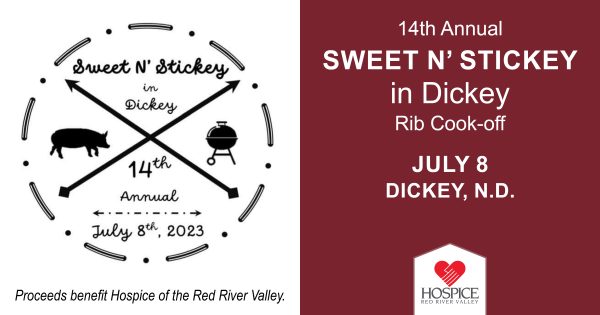 Saturday, July 8th, join us for the 14th Annual Sweet N' Stickey Rib Cook-off. This exciting event will take place outside of Dickey Bar, situated at 217 4th Ave, Dickey, N.D. 58431. The Rib Cook-off is a donation-based event, and all proceeds will go to Hospice of the Red River Valley to honor the memory of loved ones who have passed away.
This is an all-day event, with ribs starting to be served shortly after 5:30 p.m. We kindly request attendees to contribute a donation of their choice for their meal.
If you're interested in showcasing your culinary skills and competing in the rib cook-off contest, please contact Chrissy Kartes (701) 361-8124. A registration fee of $20 will be required for participants entering their recipe.
The registration fee includes a Sweet N' Stickey t-shirt or tank and serving pans for submitting your final dish for both the People's Choice and Judge's Choice categories.
Contestants must bring their own ribs (two or more racks of pork ribs, any cut except baby back).
Ribs will need to be cooked, cut and ready for presentation to judges by 5:30 p.m.
Participants are responsible for bringing their own grill/smoker, utensils and cooking supplies.
Event organizers will provide electricity (if required), judging baskets and serving trays.
Those who are interested in cooking ribs to donate and serve, without participating in the competition, have the option of joining the potluck. The potluck option is free of charge and does not include a t-shirt or tank. Participants can simply contribute the ribs they wish to donate, cook them and serve them during the event.