At Heirlooms Thrift & Gift, We're fortunate to have many dedicated volunteers who give generously of their time and talents to support the store—and ultimately, Hospice of the Red River Valley's mission. The Volunteer Spotlight celebrates their contributions to the store and organization.
Click here to find more information about our volunteer program and learn how to apply.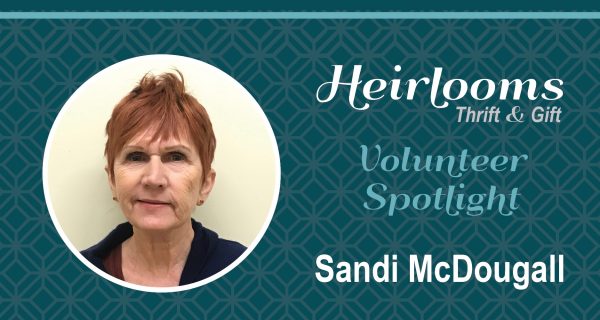 Volunteer: Sandi McDougall
Location: Fargo, N.D.
Volunteer role: Heirlooms Thrift & Gift volunteer
Volunteering since: March 2019
Why do you choose to volunteer with Heirlooms?
I believe in the work that Hospice does to support people dealing with cancer.
What is your favorite aspect of Heirlooms?
Working with the wonderful staff and volunteers.
How does it make you feel to know your work at Heirlooms support Hospice of the Red River Valley's mission?
It makes me feel grateful to give support to an amazing organization.
What accomplishment are you most proud of?
Being the former executive director of Partners for Breast Cancer Care in Ft. Myers, Florida.
Do you have any hidden talents?
I can tap dance to "School Days." My sisters and I performed in 1960 on television in Brandon, Manitoba.
Describe your perfect day.
Walking the streets of Florence, Italy with my husband.
What is your favorite food to make or eat?
I like making roasted vegetables, and I enjoy eating spicy shrimp.
What hobbies to you enjoy?
Playing Sudoku and working out at Courts Plus.
Do you have a motto or philosophy you live by? What is it and why?
Enjoy every single day and live in the moment.