At Heirlooms Thrift & Gift, We're fortunate to have many dedicated volunteers who give generously of their time and talents to support the store—and Hospice of the Red River Valley's mission. The Volunteer Spotlight celebrates their contributions to the store and organization.
Click here to find more information about our volunteer program and learn how to apply.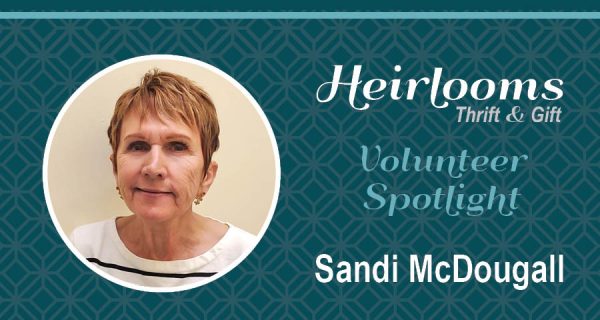 Volunteer: Sandi McDougall
Location: Fargo, N.D.
Volunteer role: Heirlooms Thrift & Gift volunteer
Volunteering since: March 2019
Why do you choose to volunteer with Heirlooms?
I truly believe in what Hospice does for people.
What is your favorite aspect of Heirlooms?
Working in the backroom unpacking donations.
How does it make you feel to know your work at Heirlooms support Hospice of the Red River Valley's mission?
It makes me feel wonderful.
Describe your favorite volunteer memory.
Helping a grandma find a tea set for her granddaughter, as the one she ordered wasn't going to be delivered by Christmas.
What accomplishment are you most proud of?
I'm proud of being the former director of Partners for Breast Cancer Care in Ft. Myers, Fla., and directing the Center 4 Life for the City of Sanibel Island.
Do you have any hidden talents?
I can tap dance.
Describe your perfect day.
Waking up in Florence, Italy with my husband.
What is your favorite food to make or eat?
I love all vegetables. I like to make cookies for husband.
What hobbies to you enjoy?
Working out at Family Wellness and listening to books on CDs. My favorite authors are Jodi Picoult and Elizabeth Berg. I got up to meet them both on Sanibel at our Library Authors Series.
Do you have a motto or philosophy you live by? What is it and why?
I give thanks for all that sustains me, food, water, air, sunshine, rest, love and friendship. My friend, Sarah Collins prayer
If you had no fear, what would you do?
Pick up my husband and son and move to Tuscany!