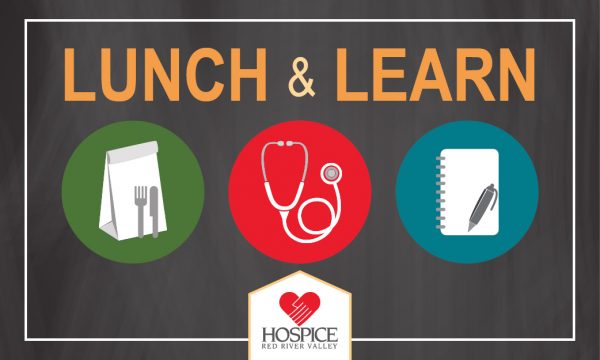 Lunch & Learn Series Postponed Until Further Notice:
In the accordance with the Centers for Disease Control and Prevention's (CDC) recommended mitigation strategies regarding COVID-19, the Lunch & Learn series held at six of Hospice of the Red River Valley's office locations has been postponed until further notice.
Older adults and persons with severe underlying health conditions are considered to be at increased risk of more serious illness after contracting COVID-19. We want to be sure we are doing what we can to ensure the safety of these groups of people. Since many of our Lunch & Learn attendees work with these populations, we feel it is in the best interest to postpone the series.
Hospice of the Red River Valley will continue monitoring the CDC's recommendations. You will be notified in a timely manner when the Lunch & Learn gets rescheduled.
Thank you for all you're doing to support our communities during this uncertain time. Take care.
Hospice of the Red River Valley hosts Lunch and Learn events on the second Tuesday of February, March, April, May, August, September, October and November from noon-1 p.m. at multiple Hospice of the Red River Valley office locations.
With a variety of professional speakers throughout the year, Lunch and Learns explore various topics related to end-of-life care. They are free and open to all health care professionals and typically provide a social work continuing education unit for each session.
Join our email list for health care professional resources to be automatically notified of upcoming Lunch and Learn dates and topics.