"I will take care of you as long as I can," Bill explained to his wife, Judy, in May 2008 after leaving the doctor's office. Judy had just been diagnosed with Alzheimer's disease. "That was the only time she questioned what would happen to her when she didn't know anyone anymore," he said. "She never asked again after I promised her I would do my best."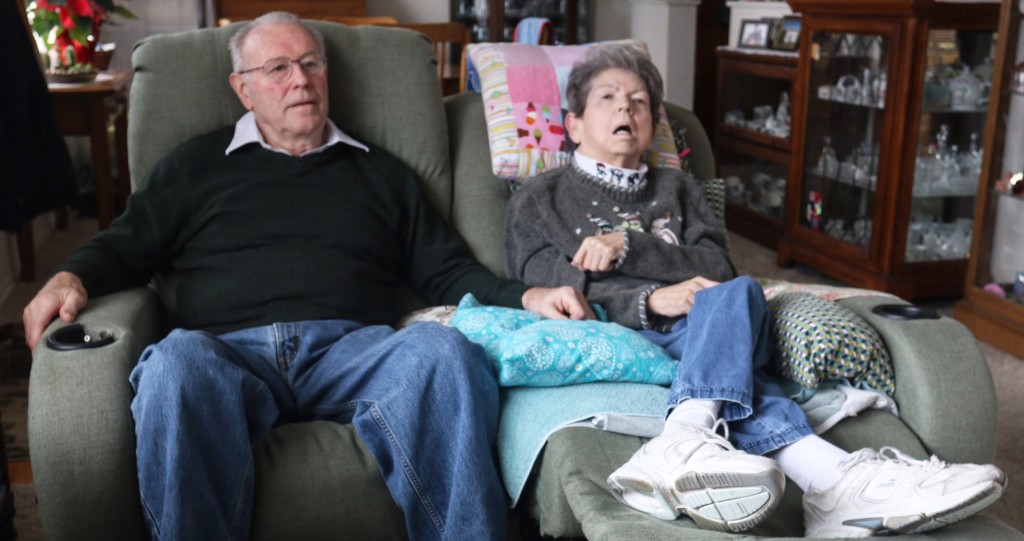 For more than six years, Bill has done just that—providing loving care to his wife of 51 years. Throughout their long and happy marriage, the couple has spent little time apart and has always relied on each other, no matter what. The life they've forged together is one filled with love and countless adventures, including a visit to every national park, building their own home, moves to multiple states and raising two children, a son and daughter. Bill and Judy have chartered the course with an unwavering faith, which they relied on when working side by side as co-administrators at a Christian camp near Medina, N.D., for 17 years. The pair has also found great joy as sports enthusiasts with their favorite team, the Green Bay Packers, hailing from their home state of Wisconsin.
With the life Bill and Judy built together, it was a never a question for Bill regarding if he would care for Judy after her life-changing diagnosis. Along this final journey, Bill and Judy have encountered many challenges, but Bill's positivity and sense of humor have helped the pair navigate through each day. "I found out that in order to go through this, I needed to have a sense of humor," Bill explained. "She's done things because of her illness and instead of getting upset about it, I have laughed about it, and in turn, even made Judy laugh too. Certain situations have turned into a good thing instead of bad. I have had to understand that there is no right or wrong way to be a caregiver. I just need to do the best I can."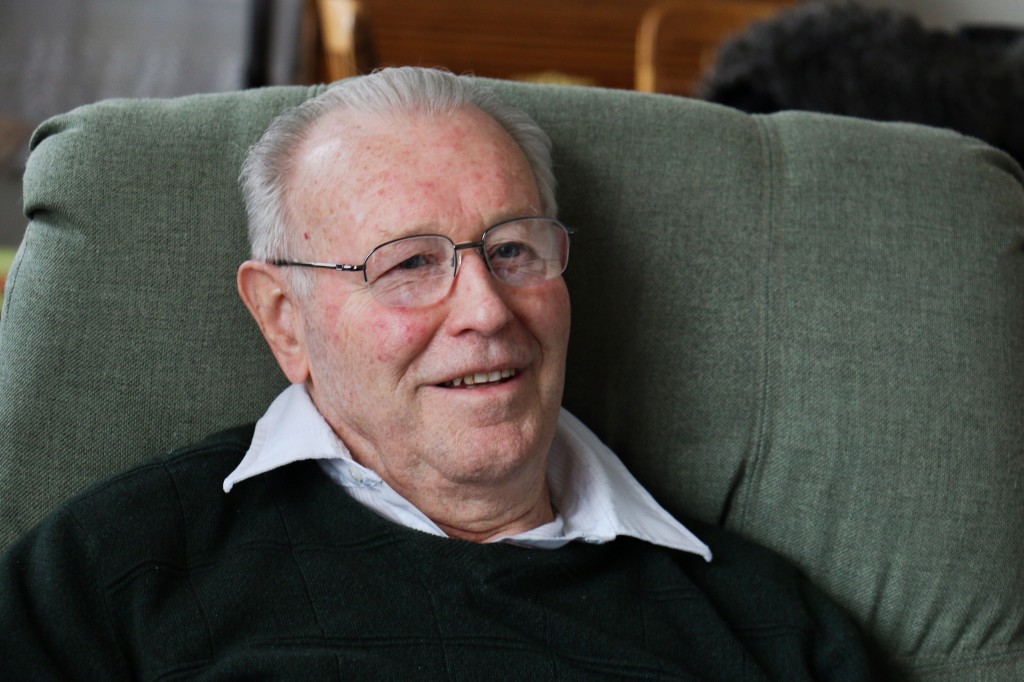 Just as approaching each new day with positivity has helped, so has the assistance of Hospice of the Red River Valley. After caring for Judy by himself for five years, Bill looked into hospice care for extra support after a recommendation by Judy's doctor.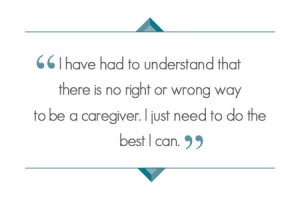 "I didn't think Hospice would be able to help since I thought she hadn't progressed far enough. But we met with Hospice that same day, and they were able to start helping right away," Bill said. "Hospice has helped me out tremendously. It's been a lot of help because as her condition worsens, it's gotten harder to move her around, and it's taken a lot of burden off of me."
Hospice staff, including a certified nursing assistant (CNA), registered nurse (RN) social worker and chaplain, make frequent visits and help with everything from personal cares for Judy and medications assistance to respite care coordination.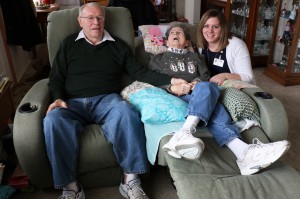 Hospice of the Red River Valley RN Kelcie works with Judy weekly and praises Bill for caring so well for his wife and taking advantage of the full array of Hospice services. "He does a wonderful job taking care of Judy," Kelcie said. "He has really embraced all that hospice has to offer, such as monthly respite, weekly volunteer services so he can go grocery shopping and CNA services three times a week. Recently I have also started bringing him resources and books from the Hospice library, which he has really enjoyed. His acceptance of extra support has helped him be the best caregiver for Judy."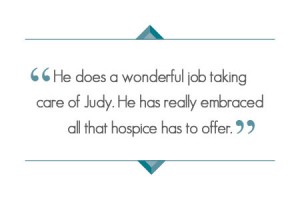 "I didn't realize everything they provided. I just thought it was more of a final thing—like in the last few weeks of someone's life," Bill shared. "Come to find out, they have been able to take care of her for a long time as her illness continues to progress. I know Hospice will be there to help. It's meant a lot to me, and we really appreciate it."
Bill is especially thankful for the monthly respite services that Robyn, Hospice of the Red River Valley social worker, coordinates, which allow him to take care of his own appointments and have a few days to recharge so he can continue taking care of Judy. Five days of every month, Judy receives respite care at a local skilled nursing facility. "We've been doing that for some time now, and that gives me a chance to get some things done too," Bill said.
Being able to schedule respite services in advance have even allowed Bill to attend a movie, baseball game or ride his bike every now and then. Caregiver burn out is something many caregivers face, so scheduling a monthly break for Bill to get his owns needs met is a part of the hospice plan of care. I'm glad he is taking care of himself too because that's important," Robyn said.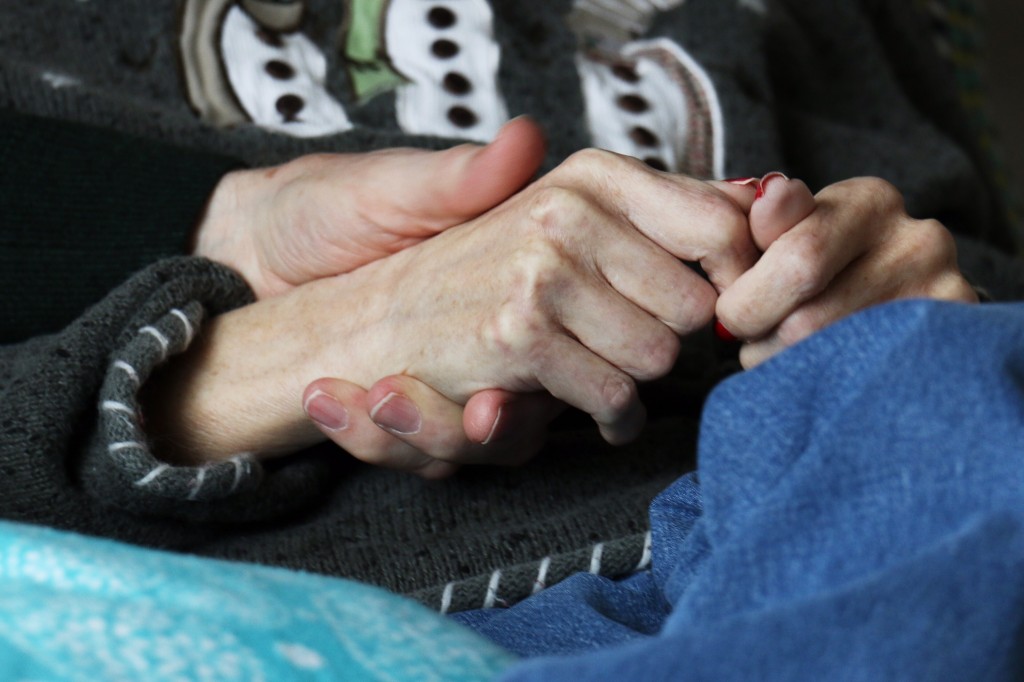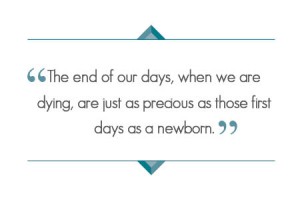 "The end of our days, when we are dying, are just as precious as those first days as a newborn. As for my staying true to my commitment to take care of my wife from the beginning to the end of her journey with Alzheimer's, well, it has been easy for me to take care of Judy because I can still see the Judy I met on New Year's Eve in 1958, the person I fell in love with, married and spent 50-plus years with. It has been a joy, and Judy is the real hero of this story."