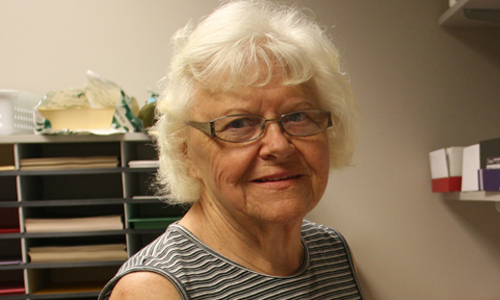 "I never thought in my wildest dreams I would go into people's homes, but I've had a lot of wonderful experiences."
After 30 years of service, Leona Laugeness has worn many hats at Hospice of the Red River Valley. While her dedication to the organization is noteworthy, when one considers her commitment is entirely in a volunteer capacity, her story extends beyond admirable, to remarkable. Only an elite few have volunteered for Hospice of the Red River Valley since its beginning.
Leona was first introduced to hospice care when her husband, Lloyd, received a terminal diagnosis of lung cancer. The year was 1981, and Lloyd was the fifth person cared for by Hospice of the Red River Valley. The hospice movement was just beginning in the United States, and at the time, many considered the idea of hospice to be a bit unconventional.
"At first, we were not receptive to hospice care, but finally relented," Leona shares. "Both Lloyd and I felt our lives were our own. We didn't want people coming around into our home during such an intimate time. We didn't want people to know. We knew Lloyd would die at home whether we had hospice care or not."
When their hospice nurse, Edie, was an hour late on the first visit, it did not warm their impression of hospice care. However, their minds quickly changed. By Edie's third visit, Lloyd quipped, "There she is!" Leona recalls. Lloyd and Edie enjoyed their visits and were ultimately glad they had hospice care.
"The night before Lloyd died, I asked if he knew what was happening, and he said yes. I asked if he knew he may die before morning; again he said yes and added, 'I have no regrets.'" After 28 years of marriage, Lloyd peacefully passed away on Nov. 28, 1981.
"Hospice helped prepare us for that conversation and that time," shares Leona. "I otherwise probably would not have talked about it, out of fear of upsetting him. Hospice just made it easier."
As a recipient of hospice care, Leona saw the need for volunteers firsthand. Despite her shy nature, Leona completed volunteer training in the fall of 1982, and visited her first patient in the spring of 1983. "I never thought in my wildest dreams I would go into people's homes," Leona shares. "But, I've had a lot of wonderful experiences."
"I almost said no to visiting my first patient," Leona recalls. "But I thought, I can't turn down my first assignment!" The woman was the wife of a retired physician. "The doctor was very intimidating. I thought he would think, 'Who do you think you are? What are you doing?' But, I made my visits anyway," Leona remembers. "I visited the patient for four or five months, and we would talk about the hereafter. The woman told me she didn't fear death."
"The doctor always intimidated me, but I knew I had made a break through after his wife's death." Leona shares. "The doctor said there would be no public viewing, family only, but if I would like to see her, I could. It was then I knew I had made his acceptance."
Leona befriended countless patients and their family members throughout the years, and in the process, encountered all kinds.
"I once visited a woman who was very angry. The whole time I was with her, she would rant and rag about what she didn't like about hospice care. After complaining for some time, she said to me, 'You must be pretty loyal to hospice to do what you do.' I remember telling her, 'I think hospice is good because it allows patients to stay home, rather than be institutionalized or hospitalized. I'm loyal to the idea of hospice care.' I wasn't with her for too long, but we became good friends."
Leona has been loyal to both the idea of hospice care and Hospice of the Red River Valley. Her initial reticence gave way to a lifetime of service, which has allowed the organization to carry out its mission—a mission she believes in.
Since 1982, Leona has worn many hats as a volunteer; she has faithfully visited patients, assisted with office tasks, offered respite care, represented Hospice at health fair booths and special events and assembled admission packets.
"I never thought I'd still be volunteering 30 years later," Leona comments. "It just became a lifetime habit. My life is enriched by all the people I have met, even if I only see them for a few minutes."
At Hospice of the Red River Valley, we are fortunate to have many dedicated volunteers. We celebrate their contributions to the organization. Click to find out more information about our volunteer program and how to apply.