At Hospice of the Red River Valley, we are fortunate to have many dedicated volunteers. We celebrate their contributions to the organization and the many ways they enrich our patients' lives.
Click to find out more information about our volunteer program and how to apply.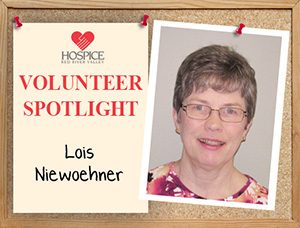 Volunteer: Lois Niewoehner
Years of Service: 3 years
Location: Fargo, N.D.
Why do you choose to volunteer with HRRV?
I worked as a nurse for 41 years, the last nine years in nursing homes, where I believe God gave me a love for the elderly.
After I retired, being a hospice volunteer has given me the opportunity to visit and spend time with the elderly—something I didn't have time to do when I was working.
What is your favorite volunteer memory?
I've had several delightful patients with one woman in particular standing out. She was a dear woman with advanced dementia, and she hardly spoke a word. She was in a nursing home, and we spent our time in the dining room listening to music or the TV. Occasionally, she would look at me, and maybe I would get an answer to a question I asked, but mostly she was silent and didn't seem to pay much attention to me.
After several months of visits with her, she greeted me one day with a smile and "hello." It was a heart warming moment. It only happened once, but it meant a lot to me.
What hobbies do you enjoy?
I have always loved dolls, and I have an enjoyable collection of old dolls from the 1920-1950s. I also enjoy playing the piano. I love playing scrabble, and I always find a little time for Sudoku as well.