At Hospice of the Red River Valley, we are fortunate to have many dedicated volunteers. We celebrate their contributions to the organization and the many ways they enrich our patients' lives.
Click to find out more information about our volunteer program and how to apply.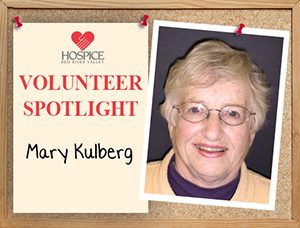 Volunteer: Mary Kulberg
Years of Service: 13
Location: Detroit Lakes, Minn.
Why do you choose to volunteer with Hospice of the Red River Valley?
Before moving to Detroit Lakes, I had been a volunteer in Grand Forks, N.D. It was important to me to find a volunteer opportunity that would allow me to provide support to patients and families dealing with end of life in the Detroit Lakes area. Volunteering gives my life purpose, and I get a lot out of my volunteer time with Hospice.
What accomplishment are you most proud of?
I am most proud of my family, especially my children and grandchildren. They bring so much joy to our lives.
Do you have any hidden talents?
I am a published poet, and I enjoy writing short stories.
What is your favorite volunteer memory?
My favorite volunteer memory was when I was on a Pathway visit with a patient who was near end of life. I had a feeling she was trying to connect even though she was unresponsive, so I knelt down beside her so we were face to face, and she looked directly into my eyes. I was able to call the patient's daughter and hold the phone to the patient's ear so her daughter could tell her how much she loved her before she passed away. I'm so glad I could make that connection for the two of them even though her daughter lived out of state, and I will never forget that moment.
Describe you perfect day.
My idea of a perfect day is a beautiful spring day in which it's warm enough to sit outside with a glass of wine and a good book.
Do you have a motto or philosophy you live by?
Pass it on! My mother lived by that philosophy. She was always caring for others, so I grew up thinking that was how you were suppose to live your life—to pass your gifts on to others.
What's the most exotic place you have been?
In 2007, we went to Thailand with some friends. It was an amazing country and much more beautiful than we anticipated. While we were there, we toured a village supported by Heifer International. It was wonderful to see how that organization supports and changes people's lives.