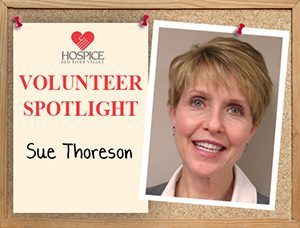 Volunteer: Sue Thoreson
Years of Service: 1
Location: Fargo, N.D.
Why do you choose to volunteer with Hospice of the Red River Valley?
We experienced Hospice firsthand through the illness and death of my grandma. The care we received as a family left a lasting impression.
Because of this, I've carried with me the idea of one day becoming a patient care volunteer—finally making the decision to do so this past year.
What is your greatest accomplishment?
As cliché as it sounds, my proudest accomplishments are 30-plus years of marriage to the best man I know and our four children. They are blessings—leaving me fulfilled and full of joy.
What is your favorite volunteer moment?
One of my best volunteer memories was the first time I experienced a breakthrough with a somewhat challenging patient. Recognizing the personal connection I made helped our subsequent visits become richer and more meaningful.
If you had no fear, what would you do?
I would climb more mountains, take more risks, throw caution to the wind and live much louder that I currently do. Oh, the places I could go!