Meet Amanda Torres, a hairstylist volunteer at Hospice of the Red River Valley. Hairstylist volunteers wash, cut and style patients' hair wherever they call home. They provide additional comfort and care to our patients.
Name: Amanda Torres
Location: Fargo, ND
Volunteer Role: Hairstylist
Volunteering Since: February 2016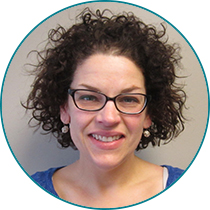 Tell us about your role and why you choose to volunteer with Hospice of the Red River Valley?
I am a hairstylist. I felt very called to volunteer for Hospice of the Red River Valley. I thought it would be in the next season of my life when all of my children were in school, but I knew God was leading me where he wanted me. I feel I've been given a gift in my ability to do hair that needs to be shared. When my grandfather was in the hospital for a time with cancer, I remember how much a simple haircut mattered to him. If you look better, you feel better.
Tell us about your favorite volunteer experiences at Hospice of the Red River Valley, or what is your favorite part about volunteering?
I get to visit with different clients on a regular basis. I really enjoy just sitting down and visiting with them. I have always felt better personally for having met them.
What are your hobbies?
I'm a busy mom with five young kids. I am blessed to have an amazing husband who understands if my cup is full, I can fill other's cups. I fill my cup by spending time with my Bible study girls and family, cooking, reading and knitting. Life is good!
What would you say to someone who is interested in volunteering with Hospice of the Red River Valley?
You have more to offer than you realize. If you are feeling a pull toward volunteering, go for it!
At Hospice of the Red River Valley, we're fortunate to have dedicated volunteers of all ages and backgrounds throughout our service area. The Volunteer Spotlight celebrates their contributions to the organization and the ways they enrich our patients' lives.
Want to become a volunteer? Whatever your skills and interests, we have a role for you! Learn how to get started.