At Hospice of the Red River Valley, we're fortunate to have many dedicated volunteers. The Volunteer Spotlight celebrates their contributions to the organization and the ways they enrich our patients' lives.
Click here to find more information about our volunteer program and learn how to apply.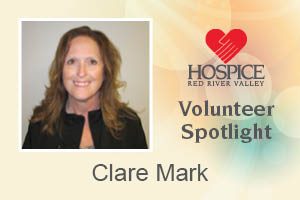 Volunteer: Clare Mark
Location: Davenport, N.D.
Volunteer role: Patient Care volunteer
Volunteering since: 2016
Why do you volunteer with Hospice of the Red River Valley?
My family had the support of Hospice when my mom was ill. I feel like I can offer support to other families by spending time with their loved ones and sharing time and conversation to make each day the best day. It is such a blessing to get to know each of the patients and see their smiles.
What is your favorite volunteer memory?
Hearing my patients tell stories about their past and the smiles on their faces when they share about their families, interests and hobbies.
What are two personal habits that have served you well?
Work hard and be nice! I try to show compassion and kindness to all people because you never know what they are going through and what they may need from you.