At Hospice of the Red River Valley, we're fortunate to have many dedicated volunteers. We celebrate their contributions to the organization and the ways they enrich our patients' lives.
Click here to find more information about our volunteer program and learn how to apply.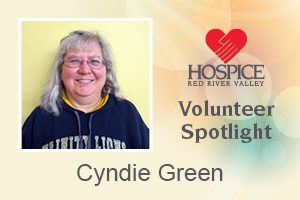 Volunteer: Cyndie Green
Location: Ellendale, ND
Volunteering since: 2015
Why do you choose to volunteer for Hospice of the Red River Valley?
I've lived in the area for a little over four years now and recently realized that there aren't many volunteers in my area. I've been a counselor for several years and have always valued the work of volunteers with Hospice. It's an important way to contribute without investing a lot of time for the amount of benefit to the individual. I can't imagine how sad it would be to die alone and don't ever want that to happen if I'm in the area.
What accomplishments are you most proud of?
I'm very proud of my family, but am not sure that's an accomplishment. I have two daughters, ages 17 and 19, and a husband who loves and supports us daily. As far as accomplishments, I guess I'm most proud of the things I've learned and the people I've gotten to know through the types of counseling I've done. I enjoy helping others during times of need or distress, and it seems to come naturally to me, so why not use it for good?
What has been your favorite vacation?
My favorite vacation to date was several years ago when our daughters were young; we lived in Springfield, Mo., and took some time off to go to Portland, Ore. We took the "long" way and went through the southern states over to Nevada, up through Nevada to the corner of California and over to the coast of southern Oregon to get there. We stayed for three weeks along the entire coast of Oregon and took the northern route home through Washington, Montana and Idaho, dropped down to Wyoming and the Dakotas, Iowa, and back to Missouri for a total of six weeks of vacation! We had a great time and took lots of pictures. It was fun for all of us.
What's your favorite volunteer memory?
I remember the first time I met with a patient. Everyone who worked at the nursing home was very friendly and helpful, and they had positive things to say about the person I would be meeting with. The person I met with was so thankful to have someone visiting him, and he told me all about himself. It was fun and not as awkward as I'd anticipated.
What hobbies do you enjoy?
I enjoy hiking, taking pictures, creating scrapbooking albums and woodworking; these are my main hobbies. There are so many things that I enjoy doing but don't have time for right now. Traveling, seeing the sights, and meeting and getting to know people who are different from me are also some of my favorite hobbies, but I don't have a lot of time right now to do those things. I hope to do them in the future, however!