At Heirlooms Thrift & Gift, We're fortunate to have many dedicated volunteers who give generously of their time and talents to support the store—and ultimately, Hospice of the Red River Valley's mission. The Volunteer Spotlight celebrates their contributions to the store and organization.
Click here to find more information about our volunteer program and learn how to apply.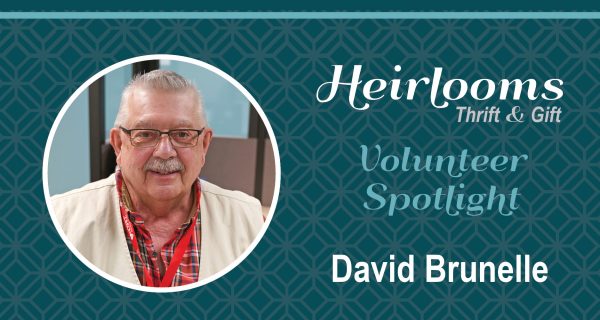 Volunteer: David Brunelle
Location: Fargo, N.D.
Volunteer role: Heirlooms Thrift & Gift volunteer
Volunteering since: 2017
Why do you choose to volunteer with Heirlooms?
I volunteer with Heirlooms to support the mission of Hospice of the Red River Valley, and it's my way of giving back to the community.
Describe your favorite volunteer memory.
Any chance I get to work one-on-one with customers at Heirlooms.
How does it make you feel to know your work at Heirlooms support Hospice of the Red River Valley's mission?
It makes me feel like a VIP of the Hospice team because I'm helping bring viability to Heirlooms.
What is your favorite aspect of Heirlooms?
The customers are my favorite part of being involved with Heirlooms. I like to make sure their shopping experience is the best so they will want to come back and share their experience with others.
What accomplishment are you most proud of?
Helping customers find that particular piece of furniture or a gift for someone.
Do you have any hidden talents?
As a teacher, I really enjoyed giving and leading educational workshops.
Describe your perfect day.
A day that I can say was successful in helping someone having a good day.
What is your favorite food to make or eat?
German chocolate cake with vanilla ice cream
What hobbies to you enjoy?
Reading, jigsaw puzzles, antique collecting, cross stitch and playing cards.
Do you have a motto or philosophy you live by?  What is it and why?
Go slow and be patient. It can and will get done. After teaching special education students, you realize that being patient and giving it time, the student will eventually grasp the skill or concept.
If you had no fear, what would you do?
Hot air ballooning