At Hospice of the Red River Valley, we're fortunate to have many dedicated volunteers. The Volunteer Spotlight celebrates their contributions to the organization and the ways they enrich our patients' lives.
Click here to find more information about our volunteer program and learn how to apply.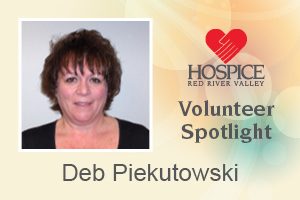 Volunteer: Deb Piekutowski
Location: Moorhead, MN
Volunteer role: Hairstylist
Volunteering since: 2008
Why do you volunteer with Hospice of the Red River Valley?
I picked Hospice of the Red River Valley to volunteer for because they give so much, and I wanted to help with that.
What is your favorite volunteer memory?
There are many, but one of my favorites was with a women I did a couple of haircuts for. I found out she was fluent in Swedish. I had papers from my great-grandparents that were in Swedish, from when they came to America. She took the time to translate them for me. I never got to thank her, but her son found them and mailed them to me.
What are two personal habits that have served you well?
Positive attitude and socializing. I love meeting new people!