At Hospice of the Red River Valley, we're fortunate to have many dedicated volunteers. We celebrate their contributions to the organization and the ways they enrich our patients' lives.
Click here to find more information about our volunteer program and learn how to apply.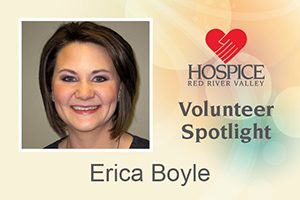 Volunteer: Erica Boyle
Location: West Fargo, N.D.
Volunteering since: April 2014
What's your favorite volunteer memory?
My favorite volunteer experiences are the visits that I provide to my current patient. She tells me that I am a blessing from God and that she is sad that we didn't meet sooner. She gives me a hug each time that I visit and holds my hand.
What accomplishment are you most proud of?
I'm most proud of becoming a Radiation Therapist. I get to take care of people with cancer, and I get to be a part of helping them through their treatment. I also feel that my role as a Hospice volunteer is an accomplishment because it allows me to provide more of an emotional support the patients. It allows for a better connection.
What is your favorite food?
Chocolate.