Meet Galen Schroeder, a courier and data entry volunteer at Hospice of the Red River Valley. Courier volunteers pick up and deliver supplies and medications to hospice patients. Data entry volunteers assist with filing, mailings and other clerical duties.
Name: Galen Schroeder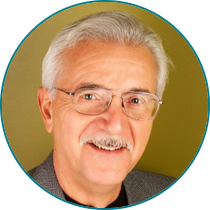 Location: Fargo, N.D.
Volunteer role: Courier and data entry
Volunteering Since: July 2015
Tell us about your role and why you choose to volunteer with Hospice of the Red River Valley.
Following in the footsteps of my wife, who has been a long-time volunteer at Heirlooms Thrift and Gift, I became a data entry volunteer several years ago. Last year, when our daughter's medical condition turned terminal and she was accepted into hospice care, the whole family saw first-hand the absolutely incredible care and support that Hospice of the Red River Valley provides its clients and their families. When asked if I would expand my volunteer role to include being a courier, I knew I could do more to help. There was no way I could say no!
Tell us about your experiences with Hospice of the Red River Valley.
Hospice of the Red River Valley cared for our daughter. Our daughter and son-in-law were blessed to have Tonia, Brittany and Arlene as her primary care team. They were so good, so caring and so supportive throughout her final months. Our family was doing all we could to help, but one could feel the physical and emotional relief our son-in-law experienced when the hospice team entered into the picture and asked, "What do you need?"
It has been a delight to see the same staff at the Hospice office occasionally when doing data entry. Even though it has been more than a year since our daughter's passing, they continue to inquire about our son-in-law and how he is adjusting to his new normal. That tells me that the caring and support at Hospice of the Red River Valley does not end at death but continues on.
As a courier, my encounters with clients' families are brief when making deliveries, but having been in their position, it only takes a moment to reconnect with the feelings of their situation. I had one instance where I made a delivery to someone I once knew. While it was not appropriate to try to talk to my friend, I had a good visit with his daughter that, I feel, was meaningful to both of us.
If my time spent in making the delivery helps a client and their family in some small way, it is time well spent.
What would you say to someone who is interested in volunteering with Hospice of the Red River Valley?
The time commitment as a volunteer is minimal, but the reward from being a part of Hospice of the Red River Valley and contributing in some small way to the care being provided to our patients and families is a good feeling. It is definitely time well spent. Also, the volunteer coordinators are great people to work with and show sincere appreciation for the volunteer's efforts. It is always nice to know that one is appreciated!
At Hospice of the Red River Valley, we're fortunate to have dedicated volunteers of all ages and backgrounds throughout our service area. The Volunteer Spotlight celebrates their contributions to the organization and the ways they enrich our patients' lives.
Want to become a volunteer? Whatever your skills and interests, we have a role for you! Learn how to get started.