At Hospice of the Red River Valley, we're fortunate to have many dedicated volunteers. We celebrate their contributions to the organization and the ways they enrich our patients' lives.
Click here to find more information about our volunteer program and learn how to apply.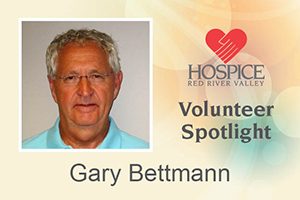 Volunteer: Gary Bettmann
Location: West Fargo
Volunteering since: September 2013
Why do you volunteer with Hospice of the Red River Valley?
I volunteer because I can give back to the community. I am glad I can help families with their loved ones when they can't be there themselves.

What's your favorite volunteer memory?
When I brought a patient who has Parkinson's into a singing group, a song came on that he must have really liked because he started to sing. This was a special moment because due to the disease, he can hardly speak. When I get there on Thursdays to see him, he starts to smile, which makes me feel like I make a difference. I'm glad I am able to visit him every week because he doesn't have family in the area that can visit on a regular basis.
Complete this sentence: If I could change the world, I would. . .
I would make sure that everyone has the love of Jesus in their heart so that we can all live in harmony with God in the center of our lives.