At Hospice of the Red River Valley, we're fortunate to have many dedicated volunteers. We celebrate their contributions to the organization and the ways they enrich our patients' lives.
Click here to find more information about our volunteer program and learn how to apply.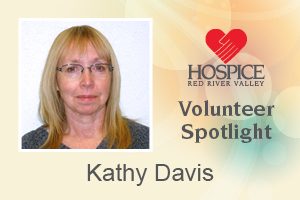 Volunteer: Kathy Davis
Location: Thief River Falls, Minn.
Volunteering since: 2011
Why do you choose to volunteer with Hospice of the Red River Valley?
Ihave two paying jobs that I am thankful for and that I enjoy. But my time with Hospice and my other volunteer job make me feel like I am making a positive contribution to this life. I am amazed at so many things I see in the people I visit. Even when they know they are facing death, they can laugh and stay true to themselves — they are still who they have always been. The personal stories and stories of family memories are so good to hear. Sometimes a family member can look so tired. I am glad that I can show up and they can take a small break or go visit another family member in a nursing home. I like how you can just feel the love in the room by looking at pictures of happier days.
What would your perfect day look like?
A perfect day for me would be a day where there is more laughter than tears, more kindness than pain, more light than darkness.