At Hospice of the Red River Valley, we're fortunate to have many dedicated volunteers. We celebrate their contributions to the organization and the ways they enrich our patients' lives.
Click here to find more information about our volunteer program and learn how to apply.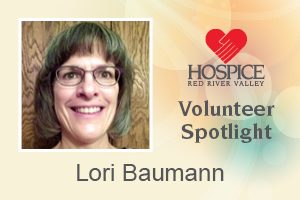 Volunteer: Lori Baumann
Location: Fargo, N.D.
Volunteering since: 2015
Why do you volunteer with Hospice of the Red River Valley?
I was invited to consider sewing Celebration Bears for Hospice of the Red River Valley and thought, "I could do that." Without really considering the emotions of death, I became involved with the healing process. Celebration Bears give the grieving family a happy memory, and sewing them provides an opportunity for me to be creative.
What is your favorite volunteer memory?
My favorite memory of volunteering was made with the first Celebration Bears I sewed. Within a couple hours of turning the Bears in, a picture came across my daughter's Facebook feed with the Bears and a comment of what they meant to the family.
What are your hobbies?
I enjoy reading, playing games, gardening, being outside and crafting.
What are you most proud of?
I am most proud of the way my character has changed by my taking advantage of volunteer opportunities. Teaching Sunday School, 4-H volunteer, PTA, frequent visits with an elderly friend and holding her hand as she passed from this world, sewing Celebration Bears, and bringing up two beautiful daughters became possible only with the hand of God on my heart.