At Heirlooms Thrift & Gift, We're fortunate to have many dedicated volunteers who give generously of their time and talents to support the store—and ultimately, Hospice of the Red River Valley's mission. The Volunteer Spotlight celebrates their contributions to the store and organization.
Click here to find more information about our volunteer program and learn how to apply.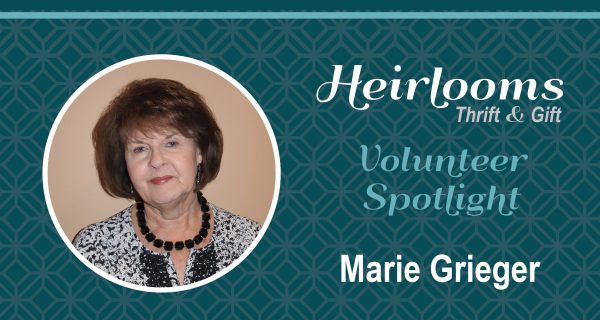 Volunteer: Marie Grieger
Location: Fargo, N.D.
Volunteer role: Heirlooms Thrift & Gift volunteer
Volunteering since: 2003
Why do you choose to volunteer with Heirlooms?
It is a way to "give back." Several members of my family received end-of-life care from Hospice. It was so helpful during that trying time.
How does it make you feel to know your work at Heirlooms support Hospice of the Red River Valley's mission?
I feel it's a privilege to work toward that important mission.
What is your favorite aspect of Heirlooms?
Definitely the awesome management team and the many new friends I've made over the years. Also, I get to work with jewelry each day, which I enjoy immensely as collecting jewelry has been a life-long hobby of mine.
What accomplishment are you most proud of?
Raising my family who are all wonderful, caring adults.
Describe your perfect day.
A relaxing day with family.
What is your favorite food to make or eat?
All things sweet!
What hobbies do you enjoy?
Collecting jewelry and identifying it for designer, era and value. Reading and playing cards and tile games.
Do you have a motto or philosophy you live by? What is it and why?
Be thankful for each day's blessings.
If you had no fear, what would you do?
White water rafting