At Heirlooms Thrift & Gift, We're fortunate to have many dedicated volunteers who give generously of their time and talents to support the store—and Hospice of the Red River Valley's mission. The Volunteer Spotlight celebrates their contributions to the store and organization.
Click here to find more information about our volunteer program and learn how to apply.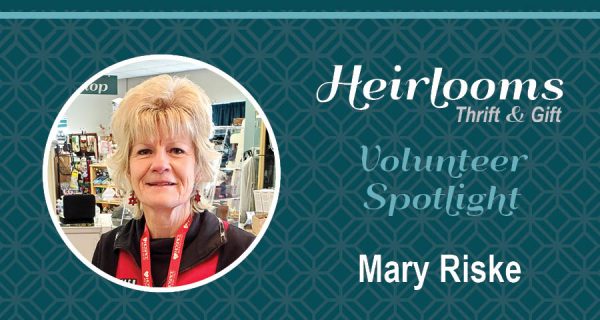 Volunteer: Mary Riske
Location: Fargo, N.D.
Volunteer role: Heirlooms Thrift & Gift volunteer
Volunteering since: 2017
Why do you choose to volunteer with Heirlooms?
Both of my parents received hospice services in California. My mother was under care for three years. I want to give back.
How does it make you feel to know your work at Heirlooms support Hospice of the Red River Valley's mission?
Since I strongly believe in the Hospice mission, it is the perfect place to volunteer.
What is your favorite aspect of Heirlooms?
I love working with customers, helping with displays and organizing.
What accomplishment are you most proud of?
I'm most proud of raising three children and my lifelong career in medical genetics.
Do you have any hidden talents?
Dancing, and it is certainly hidden in 2020 with the COVID-19 pandemic.
Describe your perfect day.
1. Coffee with chocolate milk
2. Yoga
3. Playing bridge
4. Out to dinner
5. Dancing
What hobbies to you enjoy?
I enjoy playing bridge and other card games. I also enjoy reading; going to concerts, theater and art events; and activities with my grandchildren.
Do you have a motto or philosophy you live by? What is it and why?
I believe we are on this earth to learn, love each other and give to those who are less fortunate.
If you had no fear, what would you do?
Skydive.