At Heirlooms Thrift & Gift, We're fortunate to have many dedicated volunteers who give generously of their time and talents to support the store—and Hospice of the Red River Valley's mission. The Volunteer Spotlight celebrates their contributions to the store and organization.
Click here to find more information about our volunteer program and learn how to apply.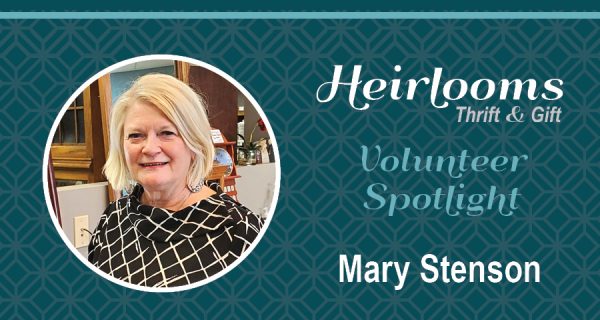 Volunteer: Mary Stenson
Location: Fargo, N.D.
Volunteer role: Heirlooms Thrift & Gift volunteer
Volunteering since: 2021
What is your favorite aspect of Heirlooms?
I love that the treasures people donate are purchased by others and new memories and traditions will start.
What hobbies do you enjoy?
Murder mysteries in books or TV, especially shows from England and Scotland. I also walk every day and enjoy my volunteer shifts!
Do you have a motto or philosophy you live by? What is it and why?
I believe every person has been given talents and gifts that are intended to be shared. Every need will be provided for as long as everyone gives of their talents.