At Heirlooms Thrift & Gift, We're fortunate to have many dedicated volunteers who give generously of their time and talents to support the store—and Hospice of the Red River Valley's mission. The Volunteer Spotlight celebrates their contributions to the store and organization.
Click here to find more information about our volunteer program and learn how to apply.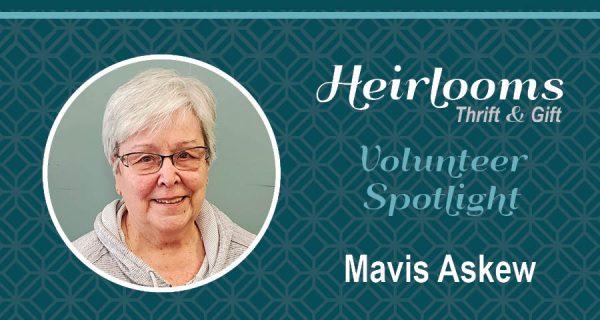 Volunteer: Mavis Askew
Location: Fargo, N.D.
Volunteer role: Heirlooms Thrift & Gift volunteer
Volunteering since: 2003
Why do you choose to volunteer with Heirlooms?
Because I believe in their mission! Much of my nursing career has been related to oncology and hospice care.
Describe your favorite volunteer memory.
It's always interesting to see and talk with families when they stop into the store to see how/what we have done/displayed their donation or to relate how much they have appreciated hospice care they have received.
What is your favorite aspect of Heirlooms?
Just a relaxed, welcoming environment.
What accomplishment are you most proud of?
Getting my national certification in oncology.
Describe your perfect day.
Any day I remain independent, healthy and surrounded by friends and family!
What is your favorite food to make or eat?
I just plain like to cook and eat. Ethnic food – German.
What hobbies to you enjoy?
Reading and knitting.
Do you have a motto or philosophy you live by? What is it and why?
My faith has gotten me through the bumps in the road I've had to navigate.