At Hospice of the Red River Valley, we're fortunate to have many dedicated volunteers. We celebrate their contributions to the organization and the ways they enrich our patients' lives.
Click here to find more information about our volunteer program and learn how to apply.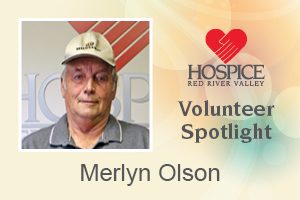 Volunteer: Merlyn Olson
Location: Twin Valley, Minn.
Volunteering since: 2011
Why do you volunteer with Hospice of the Red River Valley?
I thought I might be interested in with helping out with patients and families as I did so with my brother years ago. I felt like I needed to give back, and volunteering for Hospice was a great way to do so. I've enjoyed learning about the stages of end-of-life, Alzheimer's and dementia.
What are your hobbies?
Artwork, picture painting, woodworking. I made two scale model tractors from wood and raffled them off, with the proceeds going to Hospice of the Red River Valley. They raised $2,195.
What are your favorite foods?
Lefsa, ribs and Norwegian foods.