At Hospice of the Red River Valley, we are fortunate to have many dedicated volunteers. We celebrate their contributions to the organization and the many ways they enrich our patients' lives.
Click here to find more information about our volunteer program and learn how to apply.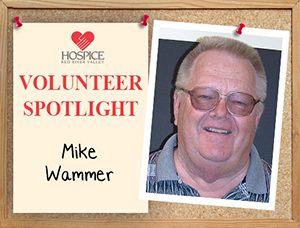 Volunteer: Mike Wammer

Years of Service: 10 1/2 years

Location: Audubon, Minn.
Why do you choose to volunteer with Hospice of the Red River Valley?
HRRV helped one of my friends at the end of life. I attended a meeting where HRRV gave a talk about hospice and volunteering. I wanted to give back, so I signed up.
What is your favorite volunteer memory?
I met a wonderful patient that I visited each week for some time. We talked about sports, politics and whatever was current in the world. I got to know him and his wife very well, and we all became good friends. It was a really rewarding experience for me.
What has been your favorite vacation?
My wife and I took a trip to Norway a couple years ago.
Complete this sentence: If I could change the world, I'd…
I'd make sure there would be tolerance by all, no poverty and everlasting peace!