At Hospice of the Red River Valley, we're fortunate to have many dedicated volunteers. We celebrate their contributions to the organization and the ways they enrich our patients' lives.
Click here to find more information about our volunteer program and learn how to apply.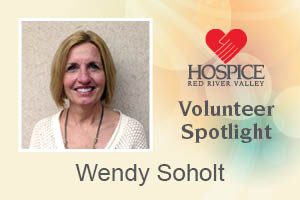 Volunteer: Wendy Soholt
Location: Mayville, N.D.
Volunteering since: September 2014
Why do you volunteer with Hospice of the Red River Valley?
My mom was under the care of Hospice the last several months of her life. Our family was grateful for the kindness, love and medical attention given to her on the most difficult days that she faced during her earthly journey. I enjoy visiting with people and felt that it would be a good fit for me to become a volunteer, especially after witnessing what a blessing Hospice was for our family and continues to be for many others.
What accomplishment are you most proud of?
I'm most proud of our children and who they have become. All three married wonderful people whom we have grown to love as our own. They have blessed us with seven precious grandchildren. The bonus is all three families live within driving distance, giving us lots of quality time together.