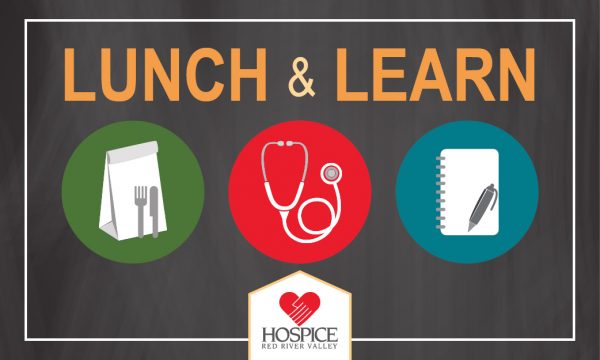 Health care professionals are invited to Hospice of the Red River Valley's upcoming Lunch and Learn as we continue to explore topics related to end-of-life care. Lunch and Learns are held every other month on the second Tuesday of the month from noon to 1 p.m.
Upcoming Session
The next session will be held Tuesday, March 13 from noon-1 p.m. Susan Thompson, Military Sexual Trauma (MST) Program Coordinator at the VA Medical Center, will present "Military Sexual Trauma: Understanding, Recovery and Long-Term Effects."
Attendees will learn the definition of MST and how to identify the physical and mental health symptoms that are commonly associated with MST. Participants will gain an understanding of why MST can be so toxic and of the long-term effects this type of trauma often has on a person.
Click here to download a printable Lunch and Learn flyer for this event.
Continuing Education
Hospice of the Red River Valley is an approved provider of continuing education for social workers in North Dakota. This program will be awarded 1 contact hour.
Locations
This Lunch and Learn will be held at five Hospice of the Red River Valley locations:
Fargo – 1701 38th St. SW
Detroit Lakes* – 1111 Highway 10
Grand Forks* – 2860 10th Ave. N., Suite 400
Lisbon* – 415 Main St.
Valley City* – 1240 W. Main St.
*The Detroit Lakes, Grand Forks, Lisbon and Valley City offices will connect via videoconference to the Fargo office, where the live presentation will take place.
Registration
This event is free and open to all health care professionals. Pre-registration is required because space is limited. RSVP at bit.ly/hrrvlunchlearn by March 6. Participants may bring their own lunches; coffee and water will be provided. If you have questions, please send an email to lunchlearn@hrrv.org.