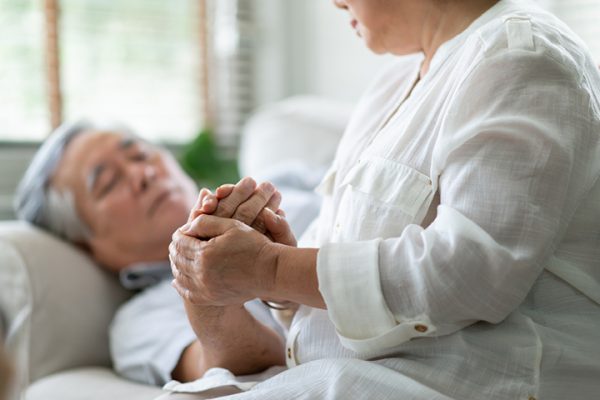 Changes naturally occur in the body as one draws nearer to end of life. Although each person's experience is unique, there are common signs death is near.
Terminal restlessness is a type of confusion or agitation that can occur at end of life. A person may be described as restless if they are unable to rest, concentrate or focus. As restlessness becomes worse, it can turn into agitation.
It's common for an individual at end of life to experience restlessness, especially in the final stages of the dying process. This can be distressing to the patient and caregiver/family because the person may be acting out in a way that is not reflective of their feelings about their family/caregivers. It may be difficult not to take things personally when witnessing restlessness. Try not to take things personally or feel guilty.
The most important thing it is to try to make the person as comfortable as possible.
What causes terminal restlessness?
Emotional response to the dying process. At end of life, people are often aware they are dying and may experience fear, anger, uncertainty and restlessness.
Medications. Some medications can cause unwanted side effects, which can include restlessness, drowsiness, mood changes, anxiety, nausea, vomiting and gastrointestinal upset.
Organ failure/medical problems. Decreased oxygen levels, electrolyte imbalances and metabolic changes because of bodily system failures and medical problems can contribute to delirium and restlessness.
Pain. Pain and discomfort can cause agitation and restlessness, especially if a person is unable to describe or voice their pain.
What does restlessness look like?
Aggressiveness/anger/outbursts
Pulling at tubing, clothing, bedding or other items
Searching for items and then turning away from them
Aimless movements and fidgeting
Changes in alertness and lack of attention
Difficulty sleeping or sleeplessness
Trying to get out of bed without a known reason
Difficulty in getting comfortable
Muscle twitching
 What can you do?
Keep the environment calm: play soothing music, decrease visitors, read a favorite book, dim lights, brush hair, etc. Do whatever is usually relaxing for the person.
Offer reassurance to the person who is agitated.
Distract the person with something familiar, such as photos or a task (folding laundry, art or writing).
If the person is able, try going for a walk, getting up to use the restroom or repositioning.
Restlessness is difficult not only for the one experiencing it, but also those around them. If you find yourself feeling overwhelmed on how to help your loved one, seek assistance. Don't be afraid to ask for support. Asking for help allows you to be the best caregiver possible.
If you need extra support, Hospice of the Red River Valley can help. Contact us at (800) 237-4629 or visit our website.
About Hospice of the Red River Valley
In 1981, Hospice of the Red River Valley was founded on the belief that everyone deserves access to high-quality end-of-life care. We fulfill our nonprofit mission by providing medical, emotional, personal and spiritual care, as well as grief support to our patients, their families and caregivers during a tender time in life. Our staff helps those we serve experience more meaningful moments through exceptional hospice care, 24 hours a day, 365 days a year, wherever a patient calls home. The organization serves more than 40,000 square miles in North Dakota and Minnesota, including in and around Bismarck, Detroit Lakes, Devils Lake, Fargo, Fergus Falls, Grand Forks, Lisbon, Thief River Falls, Valley City and many more communities. Hospice of the Red River Valley offers round-the-clock availability via phone, prompt response times and same-day admissions, including evenings, weekends and holidays. Contact us anytime at 800-237-4629 or hrrv.org.