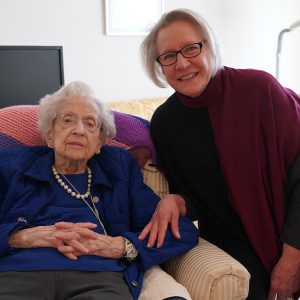 "I, Lorena Charlotte, am the only living member of my family, the eldest daughter born August 27, 1912, in Chicago, Illinois, weighing three and three quarter pounds."
So opens the memoir of nation's oldest-living member of the SPARs, the women's branch of the U.S. Coast Guard in World War II.
The opening line of Lorena "Terry" Nelson's memoir, published in 2008, reveals much about her. The 107-year-old Bismarck, N.D., resident is matter of fact, with quite the story to share.
She was raised in a military family, and readily followed in those footsteps at a time when it wasn't common for women to do so.
Semper Paratus—Always Ready became the motto for the women's branch of the U.S. Coast Guard during the second World War. The acronym became the group's nickname, SPARs. The phrase is Latin meaning "always ready."
"Do you know how hard it is to always be prepared?" Terry said.
She's faced many challenges and conquered many firsts in a life that began the same year the RMS Titanic plied the icy waters of the North Atlantic and a full eight years before women in the United States had the right to vote.
After helping weather the nation's storms, Terry's ship is finally coming into port. She and her family are using hospice care to maintain her independence and control as she enters the last chapters of her life.
Independent, Determined
Terry was, and still is, a trailblazer. In fact, her name is an example of her unbreakable spirit and determination. She was originally named Lorena Charlotte, but preferred her last name, Terry, so she went by Terry for most of her life.
She has a fashion sense. Terry still dresses herself sharply, and it's clear she takes pride in putting together the perfect outfit. On a cold February day, she wears a royal blue quilted jacket with matching shirt, complete with a pearl necklace.
The family photo albums give cues to her interest in fashion. Terry's grandmother sold furs in New York and would send Terry jewelry, some of which she has to this day.
After college and prior to World War II, Terry wrote copy for an advertising agency for $14 per six-day workweek. She worked her way to a fashion copywriter with Sears, Roebuck and Co., and was later promoted to fashion coordinator.
"I've always been interested in fashion," Terry said. "It gave me the opportunity to work. I organized the models and the clothing, wrote the copy and put on the show. I really enjoyed it."
The career advancement is a sign of her dedication to a cause she held dearly.
However, war loomed in Europe. The German war machine began to march its way across the continent. Terry's determination and perseverance would soon be needed elsewhere.
In 1943, Terry applied to the Coast Guard for officer training. Orders arrived for her to proceed to the Coast Guard Academy in New London, Connecticut. Six weeks of training taught her to command a squad, recognize aircraft and learn Coast Guard etiquette and history. She rowed a six-oared lifeboat and rode on an 83-foot cutter.
Upon graduation, Terry reported to Washington, D.C., to join the guard's Pay and Supply Division. A trusted and respected officer, she managed the commander's secret correspondence, approved boards of survey of lost or damaged goods and oversaw the division's enlisted SPARs. She also managed the Coast Guard's rationing program.
While stationed in Washington, D.C., a friend set Terry up on a blind date with Captain Robert Nelson.
"We seemed to 'click,'" Terry said.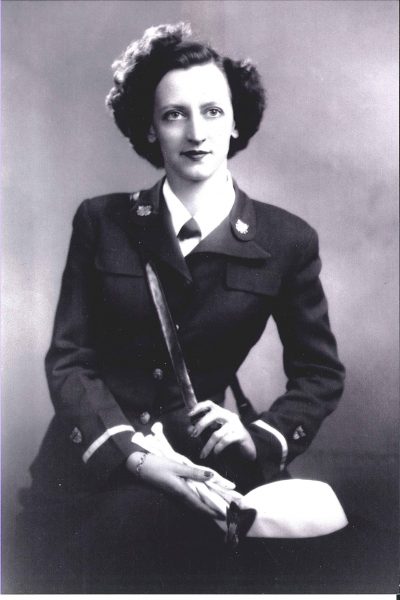 The pair dated for several months. In her matter-of-fact way, Terry explained how they got married.
"He was in a nearby port, and one time I said, 'Why don't we get married?'" Terry said. "He thought it was a good idea, so I called my folks and he called his folks and we got married."
Following honorable discharges, the couple settled for a few years in Texas before Robert took a job in 1954 as an assistant plant manager with Montana-Dakota Utilities Co., in Bismarck. There they raised four children. Robert passed away in 2012 after 67 years of marriage.
Many Firsts
During their marriage, Terry remained a steadfast community supporter through her involvement and leadership in many different organizations.
Terry served as an elder for several terms in the Presbyterian Church.
She was the first woman appointed by the Bismarck City Commission to the Special Assessment Commission. She is the past president of the Bismarck League of Women Voters. She served in numerous positions with the Daughters of the American Revolution.
Terry was the first woman elected president of the board of the Bismarck Veterans Memorial Public Library. Reading is one of her lifelong passions. As a youth, she was so engrossed reading a book while on her way to the grocery store that only a conductor's clanging bell saved her from a collision with a streetcar.
She instilled the love of reading and learning in her children. They would often stop home during their school lunch break to listen to their mom read about dinosaurs and the pyramids of Egypt.
"Mom is not timid about learning new things," Pat said. "She is a great role model for living life, being involved and kind to other people."
Terry remains active and independent. She receives care from Hospice of the Red River Valley in her Bismarck home, a quaint apartment in the Touchmark Assisted Living community. It's a relief to her daughter and primary caregiver, Pat, who is a retired social worker. She lives in Fargo, a three-hour drive from Bismarck.
Pat was happy to have found Hospice of the Red River Valley, which began serving the Bismarck/Mandan area in January 2020.
"This has been a real blessing, but it was a tough decision," Pat said. "What made such a big difference was being able to consult with Hospice of the Red River Valley. Having someone provide guidance and help process my emotions was what prepared me to talk with Mom about Hospice and meet the Hospice team. Learning that Renda would be part of her team was also a major deciding factor. From that day forward, the Hospice staff/team continues to assess, provide great care and support to Mom."
The family's Hospice team includes a registered nurse (RN), social worker and licensed practical nurse (LPN). They make regular visits to make sure Terry's needs are met. It's an added layer of support that works together with the care provided by Touchmark's staff.
"They take good care of me, and are there when you need them," Terry said. "I think it's important to stay as independent as you can."
Social Worker Brittany provides emotional support and resources for Terry. LPN Renda helps with bathing and daily cares. A nurse manages medications.
"There is peace of mind in knowing Mom is in such good hands," Pat added. "There is different care that hospice can provide. For me, having that support has been huge. It's emotional. Having a team to help us is so critical."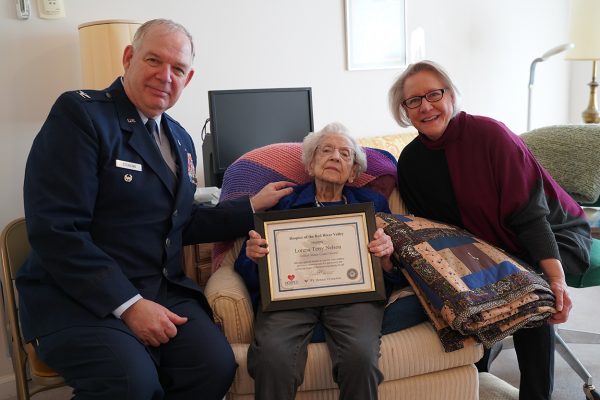 Hospice of the Red River Valley recently recognized Terry for her military service. She was presented with a certificate and pin recognizing her dedication to our country in a We Honor Veterans ceremony held at her Touchmark apartment.
Writing the Next Chapter
"It just seemed like the thing to do," Terry said about her memoir. "I'm thinking about writing another and bringing it up to date."
Terry's lengthy legacy is being recorded for posterity. Her memoir and a recent interview are being housed in the Library of Congress.
More than a century after her birth, Terry Nelson remains at the ready — and Hospice of the Red River Valley is there to guide her along the way.
"Just enjoy living and take one day at a time," Terry said. For she will, until her ship comes home.
About Hospice of the Red River Valley
In 1981, Hospice of the Red River Valley was founded on the belief that everyone deserves access to high-quality end-of-life care. We fulfill our nonprofit mission by providing medical, emotional, personal and spiritual care, as well as grief support to our patients, their families and caregivers during a tender time in life. Our staff helps those we serve experience more meaningful moments through exceptional hospice care, 24 hours a day, 365 days a year, wherever a patient calls home. The organization serves more than 40,000 square miles in North Dakota and Minnesota, including in and around Bismarck, Detroit Lakes, Devils Lake, Fargo, Fergus Falls, Grand Forks, Lisbon, Thief River Falls, Valley City and many more communities. Hospice of the Red River Valley offers round-the-clock availability via phone, prompt response times and same-day admissions, including evenings, weekends and holidays. Contact us anytime at 800-237-4629 or hrrv.org.