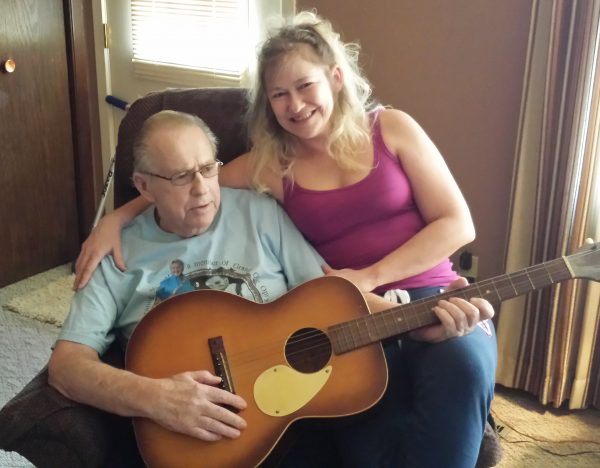 Sweet Surprise
On a rural farm in Ulen, Minn., a long-sought-after dream came true for Sonny, Hospice of the Red River Valley patient, when he received a phone call from Nashville, Tenn. On the other end of the telephone Sonny heard the voice of his favorite country music singer, Bill Anderson (also known as "Whispering Bill"). "My family kept saying the call was going to happen, but I just couldn't believe it," Sonny said. "Pretty soon, there was a call, and I heard, 'Telephone, Dad, telephone!' I knew something was cookin'."
Sonny and Bill discussed the weather, life and Bill's music—making Wednesday, March 5, 2014, a memorable day for Sonny."I like music, and I used to play a jukebox, but I didn't pay attention to the artists at the time," Sonny explained. "It wasn't until after I retired that I began to notice Bill was singing the songs I really enjoyed." Sonny found a new hobby in not only listening to Bill's music, but also in taping weekly episodes of the Country Family Reunion show, hosted by Bill. "I have 52 videos in my collection so far," Sonny said. He also enjoys singing along to some of Bill's classic tunes like, Bright Lights and Country Music.
Making the Dream Happen
In December 2013, Sonny began receiving care from Hospice of the Red River Valley in his rural home. His daughter, Pam, wanted to connect him to an organization like Make a Wish® with the hope her dad could one day meet Bill.
"I got to thinking, there must be a place with the ability to help adults who are at end of life," Pam said. Through an online search, she located the Dream Foundation in Santa Barbara, Calif. The Foundation's mission focuses on enhancing the quality of life for individuals and their families who face a life-threatening illness by fulfilling a heart's final wish.
"I contacted the Dream Foundation, and they had an application specifically for hospice patients," Pam explained. With the assistance of Hospice of the Red River Valley staff, the application was completed and submitted to the Foundation. "Hospice really helped us connect to the Dream Foundation and answer any questions the Foundation had about Dad," she said.
Because of Sonny's current prognosis, the application was promptly forwarded to the "emergency dream team" and placed at the top of the Dream Foundation's wish list. Given Bill's schedule, a phone call was arranged instead of an in-person meeting.
"All of a sudden, it just happened, and Bill was on the phone," Pam described with excitement. "Hearing Dad talk with Bill was a beautiful thing."
The Cherry on Top
Following the "dream" call, the Dream Foundation sent a CD from Bill, and Bill sent Sonny a package containing single-song DVDs and other artist memorabilia. "Bill had already sent me an autographed picture, but I'm happy to add the extra things to my collection," Sonny said. "I couldn't believe I actually got to talk to Bill. It was a once-in-a-lifetime experience."
About Hospice of the Red River Valley
In 1981, Hospice of the Red River Valley was founded on the belief that everyone deserves access to high-quality end-of-life care. We fulfill our nonprofit mission by providing medical, emotional, personal and spiritual care, as well as grief support to our patients, their families and caregivers during a tender time in life. Our staff helps those we serve experience more meaningful moments through exceptional hospice care, 24 hours a day, 365 days a year, wherever a patient calls home. The organization serves more than 40,000 square miles in North Dakota and Minnesota, including in and around Bismarck, Detroit Lakes, Devils Lake, Fargo, Fergus Falls, Grand Forks, Lisbon, Thief River Falls, Valley City and many more communities. Hospice of the Red River Valley offers round-the-clock availability via phone, prompt response times and same-day admissions, including evenings, weekends and holidays. Contact us anytime at 800-237-4629 or hrrv.org.