Advance care planning is like planning a road trip to an unfamiliar destination. People approach mapping their route in different ways, but your trip can be made more comfortable by planning ahead. An advance directive is a map detailing where you want your health care "to go," in the event you are unable to voice your own wishes.
Do you have a written plan stating what kind of health care treatments you would or would not want if you could not speak for yourself?
Consider this…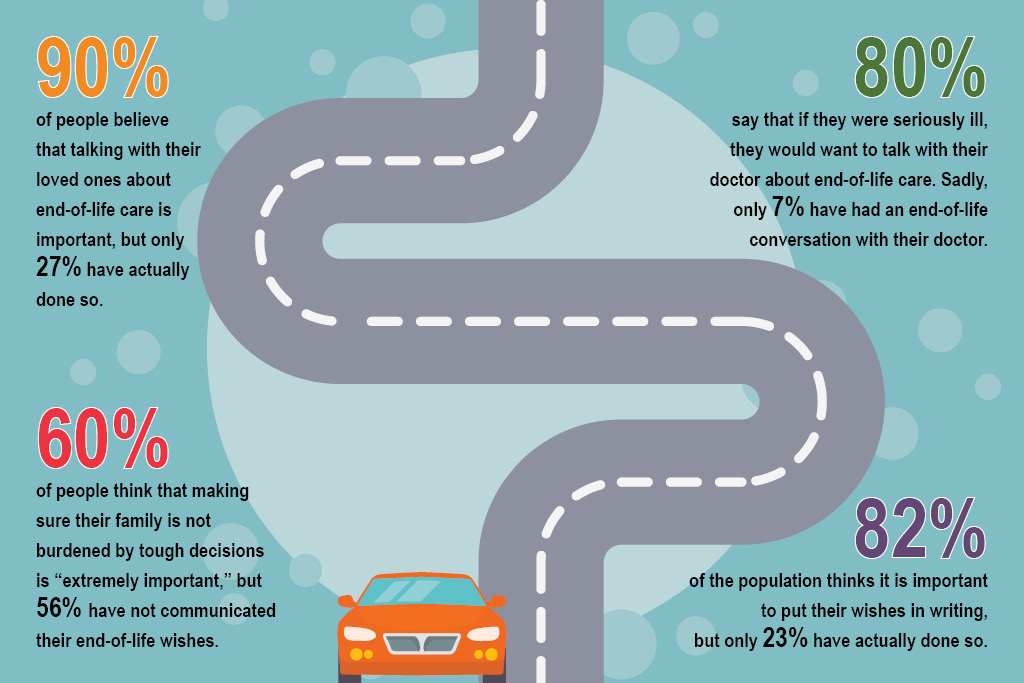 Death comes in its own way, in its own time. None of us can predict when our final day will arrive. Advance directives are not only for the elderly; in fact, anyone 18 years and older should complete an advance directive. By completing an advanced directive, people and their families are able to have tough conversations well before the directive is actually needed.
What is an advance directive?
It is a written statement of your wishes, preferences, goals and values regarding end-of-life health care decisions. It is only used if you are seriously ill and unable to speak for yourself. There are two components to the directive.
Naming of a medical (health care) power of attorney
Living will
What is a surrogate or health care agent, and who do I choose to take on that role?
A surrogate or health care agent, also referred to as a health care proxy, is a health care advocate for a person if he or she is unable to make decisions for him or herself.
When choosing a surrogate or health care agent you should consider someone who:
Knows you well
Will remain calm in a crisis
Is not afraid to ask questions and advocate for you to your medical team
Can reassure and communicate with your loved ones
Understands how you would make the decisions if you were not able to
What is a living will?
A living will is a portion of documentation where a person's explanation his or her wishes for end-of-life care can be incorporated. Living wills can be extensive, or quite simple, and should include an explanation of the individual's values, wishes, preferences and goals for end-of-life care. There should be a description of what, if any, life-sustaining treatment you would want, including artificial nutrition and hydration (feeding tube), cardiopulmonary resuscitation (CPR), do-not-resuscitate order (DNR), palliative care and hospice care.
When the documentation is complete, what should I do with it?
You must include your signature on all documentation, and your signature must be either notarized or witnessed. In North Dakota, either option is sufficient to legalize the document. The "Five Wishes" document is recognized in many states and does not require notarization, but your signature must be accompanied by two witness signatures.
You should retain the original version of the completed and signed documentation in a safe, accessible location within your home. Copies should be made for each of your health care decision makers and your health care institution (for their electronic medical record). It is not recommended to keep the only version of the document in a safety deposit box at the bank. This information should be readily available for review when the need arises.
If any of the following situations occur, your document should be updated:
When there is a divorce
When a family-related death has occurred
When chronically ill, or there is a change in your health status
During every decade of life
If you receive a new, life limiting diagnosis
If I have a power of attorney, do I need an advance directive?
Yes, the power of attorney (POA), or conservator, is normally associated with someone who takes care of financial matters for an incapacitated person. The advance directive for health care only covers health care decision making.
What is a POLST?
A physician order for life-sustaining treatment (POLST) is intended to be completed alongside a patient's physician to guide the actions of emergency medical personnel (e.g., whether or not to perform CPR). It is a medical order that gives patients more control in their end-of-life care. A POLST must be signed by a doctor or other medical professional after having a conversation about end-of-life care with the patient. It is intended for people who have a serious illness—at any age—and usually completed when it is anticipated the patient has a year or less to live.
Where do I find information on advanced care planning or an advance directive form?
CaringInfo
Aging with Dignity "Five Wishes" Advance Directive Guide
Honoring Choices Minnesota
Honoring Choices North Dakota
National Health Care Decision Day website
Be bold. Have the conversation and document your wishes, you'll be glad you did. If you have questions, please contact us at (800) 237-4629 or questions@hrrv.org.
About Hospice of the Red River Valley
In 1981, Hospice of the Red River Valley was founded on the belief that everyone deserves access to high-quality end-of-life care. We fulfill our nonprofit mission by providing medical, emotional, personal and spiritual care, as well as grief support to our patients, their families and caregivers during a tender time in life. Our staff helps those we serve experience more meaningful moments through exceptional hospice care, 24 hours a day, 365 days a year, wherever a patient calls home. The organization serves more than 40,000 square miles in North Dakota and Minnesota, including in and around Bismarck, Detroit Lakes, Devils Lake, Fargo, Fergus Falls, Grand Forks, Lisbon, Thief River Falls, Valley City and many more communities. Hospice of the Red River Valley offers round-the-clock availability via phone, prompt response times and same-day admissions, including evenings, weekends and holidays. Contact us anytime at 800-237-4629 or hrrv.org.